ARA Libertad: Ghana port authority lost 7.6m dollars; could demand NML Capital
Thursday, December 20th 2012 - 18:00 UTC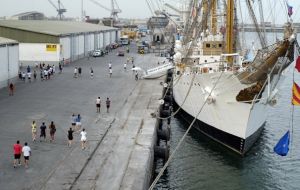 Ghana's Ports and Harbours Authority (GPHA) admits to having lost 7.6 million dollars as a result of the Argentine frigate ARA Libertad's occupation of its prime berth for a period of 76 days, reports Accra's Graphic Online.

Ghanaian officials have indicated their intention to pursue Map Shipping Agency, agents for NML Capital Limited, a hedge fund group which impounded the Argentine Navy vessel, to recover 18.278 dollars being rent charges for the 76 days that the Frigate spent at the Tema Habour.

The acting Director of the Tema Port, Jacob Adorkor who disclosed this in an interview in Tema, said the GPHA would decide whether the 7.6 million should be waved as an opportunity cost or institute a legal action against the representatives of NML Capital to recover the loss revenue.

"Since the GPHA as an entity was not party in the matter, any economic loss by the Authority as a result of the action taken by the creditors which sought to deprive GPHA of its revenue must be borne by them", Adorkor said.

The training vessel Libertad, which was detained at the Tema Port on October 2, this year, at a point saw the crew members brandished weapons to stop port authorities from relocating it to a new berth in the wake of a court ruling secured by officials.

The seizure of the ship was at the behest of NML Capital Ltd, who is demanding full compensation from the Argentine government following the country's financial default over a decade ago.

The detention at the time apart from depriving the GPHA of the needed revenue further created serious congestion at the port.

Officials of the GPHA, acting on a high court ruling of November 5, 2012, to relocate the vessel from berth 11, a commercial area to a safer site to make way for business space at the berth, had to abandon the exercise for fear of lives.

Adorkor described the detention and the follow-up drama as unfortunate, since Ghana as a sole entity was not involved in the processes that lead to the detention.

On Wednesday ARA Libertad left for Argentina where she is expected to arrive on January 9 to a great celebration at the port of Mar del Plata.