Ovine Brucellosis spreading throughout Australia's Northern Territory
Thursday, January 3rd 2013 - 00:09 UTC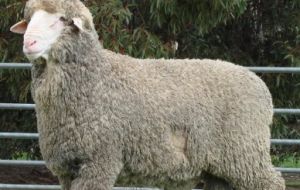 Recent positive tests, and ongoing concerns that Ovine Brucellosis is spreading throughout Australia, has prompted the country's Livestock Health and Pest Authorities (LHPA) to encourage all sheep producers to test their rams for ovine brucellosis.
Ovine brucellosis is a venereal disease caused by the bacteria Brucella ovis. It causes lumps and scars in the ram's testicle which can block the flow of sperm.
According to Senior District Vet Dan Salmon, many producers are unaware of the disease and the problems it can cause - reduced fertility or infertility, lower lambing percentages, longer joining and lambing intervals and consequent economic losses.
"In the late 1990s, testing of all rams in the former Riverina RLPB district (Moulamein and Deniliquin) revealed that ovine brucellosis was present in one third of ram flocks," he said.
"There is no effective treatment for brucellosis and all producers are at risk. Infected rams spread the disease during joining through the ewe or off-season through sodomy.
"Prevention is the key with this disease. Producers should only buy rams from an Ovine Brucellosis Accredited Stud and also regularly check rams."
Producers can easily check their own rams by feeling for abnormal lumps in the rams' testicles.
"This should be done twice a year, well in advance of joining and recently after the last joining. This will allow enough time for re-tests if they are needed," Dr Salmon said.
"Any lumps or bumps should be further investigated - this involves contacting your vet who will organise blood testing. Your vet will also discuss the options available.

"If you are unsure about the rams you have purchased, keep them separate from your home rams until you have them blood tested.
"Also remember that rams often move freely across or through boundary fences, potentially picking up diseases and bringing them back to your property."
Producers wishing to establish a group to combat ovine brucellosis should contact their local LHPA for assistance. (Southern-weekly)