Paper on Falklands' full-time lawmakers should be ready before November election
Wednesday, January 9th 2013 - 00:09 UTC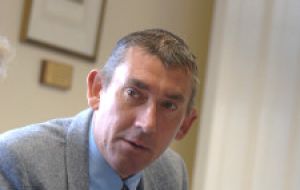 With general elections scheduled in November, Falkland Island politicians are anxiously awaiting the recommendations of a Commission advising on the full-time or part-time status of elected representatives going forward, according to a piece published by the Jamaica Observer.
"At present we are all part-time, we are paid an allowance; we don't get a salary. We have a Commission set up and they are looking at it quite neutrally and they are going to produce a paper of recommendations to the Executive Council which may say, 'keep it as it is' or 'it should be full-time' or 'full salary' and salary should be x amount," said Ian Hansen, an elected member of the eight-member Legislative Assembly of the Falkland.
The question of the adequacy of a legislative assembly that size has attracted focus given several developments in the Falkland Islands, not least among which are projections that commercial oil production will commence in 2017 for the territory which has only some 3,000 citizens and virtually no unemployment. Expectations are that development, which will mean an imported labour force, along with anticipated changes from the pending referendum to decide the political future of the British Overseas territory will spell changes for the present government.
"That is something we are discussing at the moment because with the increased workload coming on perhaps we should be having full-time Assembly members," Hansen said.
The issue is one which all current members will have to make peace with as well he noted.
"I haven't decided if I want to seek re-election yet to be honest," Hansen told the Observer. He, however, pointed out that such a change will not be a walkover and had to be handled delicately.
"It is being discussed whether we should increase the size from eight to 10 but anything like that means a change in our Constitution which would take quite a bit of time. If we change it from part-time allowance pay to full-time salary it won't affect the Constitution.
"We are hoping to get the recommendations back perhaps by the end of March, we want to have them to Executive Council before the next elections in November," Hansen said.
The all-important referendum to decide the political status and future of the Falkland Islands will be done under the scrutiny of a whole series of international observers. It is hoped that the poll, which will take place over two days, March 10th and 11th will settle the long-standing quarrel of the political status of the self-governed British overseas.
However Argentina has already anticipated it will not recognize the referendum or its results.
Controversy over the issue has remained a talking point since the British and Argentine war in 1982 over the Falklands following an Argentine invasion. Since then, Argentina, even though it had retreated and surrendered, has argued that the Islands were rightly theirs. However, Britain repeatedly confirmed that the Falkland Islanders have a right to determine their status.
Last December Alicia Dunkley-Willis from the Jamaica Observer was invited together with other Caribbean journalists to visit the Falklands.