Wednesday,
January
9th
2013
- 05:35 UTC
Venezuelan government postpones inauguration because of Chavez health problems
Venezuela will postpone Thursday's presidential inauguration due to President Hugo Chávez' continuing health problems, the government announced on Tuesday. Chavez who has dominated Venezuelan politics almost undisputedly since 1999 has not been heard from or seen in public since his Dec. 11 cancer surgery in Cuba.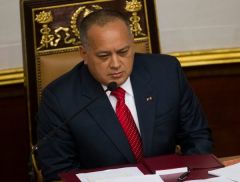 The constitution says the president should begin a new term on January 10.
"Chávez' medical team has recommended that the postoperative recovery should extend past January 10" Vice President Nicolas Maduro said in a letter read out to the National Assembly.
The letter did not say when the inauguration would take place or provide any time frame for Chávez recovery. However Maduro did say that Chavez would take the oath sometime later before the Supreme Justice Tribunal according to article 231. In this case the Venezuelan constitution does not establish a time limit.
The delay is another sign that Chávez' battle with an undisclosed form of cancer in the pelvic region may keep him from ruling for a third term. His resignation or death would upend politics in the oil-rich country that has grown accustomed to his charismatic but controversial leadership.
Government leaders insist Chávez is completely fulfilling his duties as head of state, even though official medical bulletins say he has a severe pulmonary infection and has had troubled breathing, although the latest medical reports indicate his condition is "stationary".
Opposition leaders insist the government is running roughshod over the constitution by ignoring the specified inauguration date. They insist Congress head Diosdado Cabello, a key Chávez ally, should step in as a temporary president while Chávez recovers.
Despite the government's description of Thursday ceremony as mere 'formalism' the opposition insists that on January 10 all elected and political posts, including that of Vice president Nicolas Maduro cease, because a new government takes office.
The opposition is also asking for a medical team to confirm the real medical situation of President Chavez, which should help decide if his temporary absence becomes absolute absence (incapable of taking office) and thus forcing fresh elections.
However the National Assembly dominated by Chavistas can vote a 90 days leave of absence to the president which can be extended once and only for a second 90 days period.
Meanwhile the Executive remains under the control of Vice-president Nicolas Maduro, which Chavez virtually named him his heir before leaving for his fourth cancer operation in Cuba.
The Catholic Episcopal Conference has also joined the controversy and suggested a medical team of reputed Venezuelan doctors makes a diagnosis on President Chavez health to clear all "uncertainties".
"It is necessary for the authorities to inform with clarity and veracity on the condition and evolution of the President's health because it is an issue of public interest given the high post he performs" said a release from the bishops and archbishops of Venezuela that are holding a week long ordinary plenary.
The prelates added that the health condition of President Chavez "has generated concern and unease among the whole of the Venezuelan population" and called for respect for the constitution.
"We call on all public powers and citizens to scrupulously respect the constitution because stability and peace depend on respect for the rule of the law" said the church hierarchy. "We need open, frank and respectful dialogue with the purpose of abiding the constitution and Venezuela's sovereignty, and this must be the path to overcome the multiple obstacles that affect peaceful coexistence but can also lead to a deeper crisis".
Finally the bishops express deep concern that numerous pieces of legislation make emphasis on ideological matters and introduce concepts such as 'Socialism' and 'Communal state' not contemplated in the constitution.
"The political-territory organization can't be built on a restrictive ideology because it would be against the conception of a plural, non-excluding and democratic state as consecrated in the Constitution".