Falklands confirms leadership in international cephalopod scientific research
Tuesday, January 15th 2013 - 03:03 UTC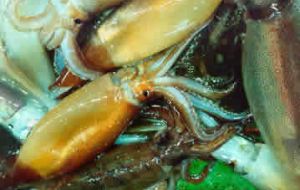 An award for outstanding research has been awarded to a Falklands scientist at the Cephalopod International Advisory Council (CIAC). CIAC is an international consultative body that was founded in 1983 with the aim to stimulate, accelerate and influence the direction of investigation of squids, octopodes, cuttlefishes and their relatives.

It also provides help and advice on different aspects of cephalopod biology, including those relevant to the management of their increasingly important fisheries.
The CIAC consists of eighteen distinguished scientists twelve of whom are elected for six years' term at the symposiums, which is held every three years, and six others remain until the next elections.

The recent symposium of CIAC took place from October 27 to November 2 in Florianopolis, Brazil, and was attended by 160 delegates from 24 countries, among them two Falkland scientists from the Fisheries Department: a member of CIAC Vlad Laptikhovsky and ex-president of CIAC Alexander (Sasha) Arkhipkin.

A total of 94 oral presentations and 133 posters dealt with different aspects of cephalopod biology and fisheries, primarily with squid and octopus population dynamics, environmental effects, stock assessment and management, age and growth, reproductive biology, aquaculture, role in marine systems, systematic studies, and evolution.

A vivid discussion and exchange of ideas gave rise to a few project aimed to develop our knowledge of these exotic and tasty creatures with complicate behaviour and very flexible life spans.

Among traditional topics raised at the symposium was a choice for the best scientific cephalopod publication that summarises the most outstanding research during last three years. This honorary title was awarded to a paper.

of Sasha as the first author (under the title 'Vestigial phragmocone in the gladius points to a deepwater origin of squid') where he proved that modern squid evolved in deep seas, not in shallow waters as all marine biologists and palaeontologists believed before.
The paper was selected unanimously, in spite of the wide range of researches nominated for this award.

Sasha was also re-elected as a CIAC member. This brought the total number of the Falkland scientists in CIAC to two out of eighteen. (PN).