Controversy in Chile over salmon industry costs, regulations and standards
Friday, January 18th 2013 - 23:47 UTC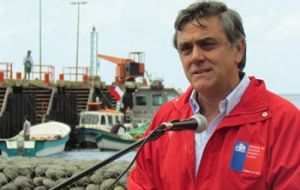 The recent statements by the CEO of Marine Harvest in Chile generated a rapid reaction of the Minister of Economy, who justified the measures taken to prevent the catastrophic recurrence of a crisis such as the spread of infectious salmon anaemia (ISA).
The general manager of the Norwegian salmon producer subsidiary, Roberto Riethmüller, had stated in an interview that the salmon industry "rather than new regulations, requires more control". The employer was referring to the number of restrictions imposed after the outbreak of ISA in Chile which sky-rocketed production costs.
"I would like [salmon producers] to say what rules have increased their costs," said Minister Pablo Longueira in response to the businessman's statements to Pulso.
"These implementations are absolutely necessary to have efficient regulations that allow us to stabilize the sector and not to repeat the impact we had with the salmon ISA health crisis," he said.
He recalled joint work between the government and the salmon unions to develop the regulations, such as the density rule. "The sector needs regulation, however it objects the new regulations we are introducing" as authority, Longueira said who insisted "we'll continue to move forward".
However the minister did not rule out further contacts during the meeting that the technical team from the Fisheries and Aquaculture Under-Secretary (Subpesca) will hold with representatives of Salmon Industry Association (SalmonChile) in a few days in Puerto Mont.
"We want to have a concession market, with clearly established quality standards so we can sort out the rotten apples and fine them. Today we have increased the fines and I think that a system similar to that applied to the extractive fishing is coming," he continued.
While last November, the Chilean salmon industry recorded a significant increase in production, and seemed to have left behind the crisis caused by the ISA virus, some envision a not so encouraging scenario because of the prices expected for 2013. (FIS/MP).-