Uruguay opens historic diplomatic archives to Malvinas war veterans
Sunday, January 20th 2013 - 22:20 UTC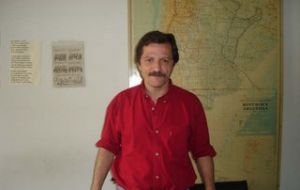 Uruguay will open on Monday 21 January its diplomacy archives to that Malvinas war veterans can consult classified information referred to the South Atlantic conflict when Argentina invaded the Falkland Islands in April 1982.

The decision to declassify documents with access to the Malvinas veterans was agreed following a request from the Argentine embassy in Montevideo on petition from Cesar Gonzalez Trejo who was president of the Malvinas Veterans Federation.

The embassy in Montevideo said in a release that the Malvinas veteran had requested 'support' to have access to the Falklands/Malvinas war documents in Montevideo for which he also asked for a scanner and a lap top.

According to the release Ambassador Dante Dovena accepted the request and helped the former combatant to achieve his goal.

Cesar Gonzalez Trejo is a Malvinas war veteran, as a former president of the Veterans' Federation has made a name fighting for the rights of his comrades and is a first line militant of the Malvinas cause.

Ambassador Dovena confirmed that the embassy has provided the veteran with a scanner and a laptop so he can copy and register all the information he feels is of interest.

The release signed by the Argentine embassy advisor, Victorino Pirillo ends saying that the Malvinas Forum in Uruguay reiterates its support to Argentina's standing sovereignty claim over the Malvinas, South Georgia and South Sandwich Islands and adjoining maritime spaces.

Uruguay during the South Atlantic conflict adopted a strict neutral position and from Montevideo the British marines captured at the beginning of the conflict were flown back to UK. Similarly at the end of the war hundreds of Argentine prisoners were channelled back to Argentina through Montevideo.

Public opinion in Uruguay was divided on the conflict, basically rejecting the use of force to solve disputes and particularly since it is a small country and the best and probably only defence is absolute abidance with international law.

Nevertheless it is no mystery that the Uruguayan navy and air force with their limited resources helped their Argentine peers.