"Biotic" additives nutritionally feasible as growth promoters in animal husbandry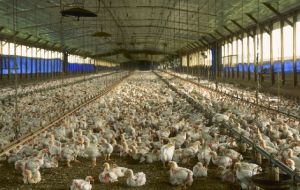 Research in Brazil has revealed that so-called 'biotic' additives are nutritionally feasible replacements for growth promoters and the animal husbandry indices of animals treated with these additives were similar to those of animals fed the normal rations and the use of additives contributed to improvements in the meat quality.
In a paper published in International Journal of Poultry Science, Luiz Gustavo Alessi Aristides and colleagues at Brazil's Londrina State University report a trial in which commercial broiler chickens were treated with five diets containing probiotics (Bacillus subtilis), prebiotics (mannan oligosaccharide-MOS), synbiotics (Saccharomyces cerevisiae, Lactobacillus acidophilus, Lactobacillus casei, Bifidobacterium bifidum, MOS and FOS (fructoligosaccharides), Avilamycin or a control treatment (no additives).
Performance parameters including total weight, daily weight gain, feed intake, viability production efficiency index and yield of carcasses and cuts were evaluated.
In addition, meat quality parameters including the proportion of PSE meat (Pale, Soft, Exudative) and lipid oxidation were measured.
The results indicated that the biotic treatments did not cause significant differences in any of the parameters evaluated.
With regard to the meat quality, birds fed biotic diets showed a reduction in the development of PSE meat and also a decrease in lipid oxidation. (Daily Meat trade news)