For Santander bank, "Brazil is the most important country in the world"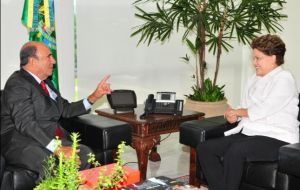 Banco Santander chairman Emilio Botin denied this week that he is selling his company's assets in Brazil and said his bank is only interested in "buying" in Latinamerica's leading economy.

"Banco Santander comes to buy. Sometimes we sell off something, but in Brazil we come to buy," Botin told reporters before being received by President Dilma Rousseff, putting down rumours doing the rounds in the financial market that he might sell part of the Bradesco bank.

"Brazil, for Santander, is the most important country in the world," Botin said, adding that he was confident the Brazilian economy will bounce back.

The banker announced investments of 3 billion Reais (some 1.5 billion dollars) in Brazil this year for the opening of new offices and ATMs and for the construction of a data centre in Campinas, a city in Sao Paulo state that will be "one of the biggest in the world."

Santander's goal for this year is to increase its loan portfolio in Brazil by between 15 and 20%, Botin said.

The Spanish bank plans to open a line of financing of up to 5 billion Reais (about 2.5 billion dollars) for medium- and long-term infrastructure projects.

The investments are justified above all in a scenario in which Brazilian economy will grow 3% this year, according to his company's estimates, Botin said.

"I'm convinced that the year 2013 will be better than last year, and Banco Santander believes in the economy because last year it grew 1%, which isn't much for Brazil but compared with Europe it's very good," Botin.

Santander chairman also announced that the bank is promoting a great forum of universities in Brazil next year, which will be attended by over 1.100 deans from all over the world.