Gibraltar Chief Minister Picardo met President Obama during his inauguration
Friday, January 25th 2013 - 05:01 UTC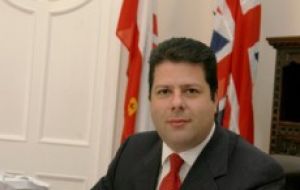 Gibraltar Chief Minister Fabian Picardo had the opportunity to meet the President of the United States Barrack Obama during his five-day visit to Washington, No 6 said on Wednesday.

Mr. Picardo, who arrived back from Washington on Wednesday, had the opportunity to speak to Mr Obama on the eve of his inauguration as the 44th President of the United States. He also attended various meetings with members of the Obama administration.

The Chief Minister and Mrs Picardo, as well as Health and Environment Minister Dr John Cortes and Mrs Cortes, attended various events around the inauguration as guests of members of the Democratic Party. These included the inauguration itself, the Candlelight Dinner held before the event and the President's Inaugural Ball.

During his Washington visit, Mr Picardo also met the Democratic Leader in the House of Representatives, Congresswoman Nancy Pelosi and US Secretary of the Interior, Ken Salazar. The Gibraltar delegation attended a function at the Department of the Interior held by Mr Salazar to celebrate the Inauguration.

The visit was in line with the Gibraltar Government's policy to improve commercial and political links with the United States and came about as a direct result of contacts made during the "Thinking Green" seminar that was held in Gibraltar last year.