"Turn the lights on" electricity rates are down Rousseff tells fellow Brazilians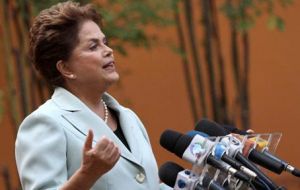 Brazilian President Dilma Rousseff announced this week a deeper-than-expected cut in electricity rates, hoping to contain a recent spike in inflation, give manufacturers a boost and prop the flat economy.
Residential consumers will pay 18% less for power, while industrial, agricultural and commercial users will see electricity bills drop 32%, Rousseff said in a television address.
She dismissed as "alarmist" recent reports that Brazil was facing an energy crisis and possible power rationing because of a drought that crimped hydroelectric capacity.
Rousseff's government, now in its third year is struggling to regain investor confidence and reignite solid growth in a Brazilian economy that boomed for much of the decade before she took office.
Despite flat economic activity, data released on Wednesday showed inflation is running above 6% on an annual basis. The IPCA consumer price index rose 0.88% in the month to mid-January, the statistics agency said, putting inflation at 6.02% in the last 12 months.
Since Rousseff took office in early 2011, Latin America's biggest economy has struggled with uncompetitive industries, rising consumer debt and falling investment. Activity likely expanded just 1% last year, a striking decline for a country that grew 7.5% in 2010 and a star performer among emerging markets for most of the past decade.
Brazilian officials see the cut in electricity prices as one of their best tools available to help revive factories from their malaise and ease pressure on prices, a major concern in a country with a long history of runaway inflation.
Brazil's central bank expects the electricity cuts could shave a full percentage point off of the IPCA index by the end of 2013.
Brazil's 2.5 trillion dollars economy still enjoys record-low unemployment and healthy government finances. Polls show that most Brazilians are happy with Rousseff and the economy, thanks in part to the residual glow from the previous decade's boom.
Yet some economists say an extended slump could lead companies to start laying Brazilians off, which would endanger Rousseff's expected re-election bid in 2014.
Brazil's current account deficit widened in December to the biggest on record, and will barely shrink in January, the central bank said on Wednesday, citing weak demand for raw material exports that has eroded its traditional trade surplus.
The current account deficit jumped to 8.413 billion in December, the biggest monthly shortfall since at least 1980. Accelerating imports and more corporate profits sent overseas will also contribute to an estimated 8.3bn current account gap in January, Tulio Maciel, the bank's head of economic research told reporters.