Timerman in London insists in meeting Hague, 'the two alone' without Falklands' representatives
Monday, February 4th 2013 - 22:05 UTC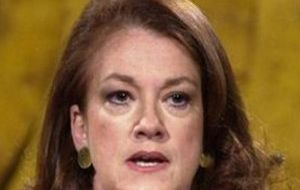 Foreign minister Hector Timerman is in London and has reiterated his request and willingness to hold a bilateral meeting with Foreign Secretary William Hague, "the two alone, to address numerous issues of the bilateral and multilateral agenda", says a letter from Argentine Ambassador Alicia Castro dated February 4 addressed to the Foreign Office and made public in Buenos Aires.
The brief one paragraph letter adds that Minister Timerman will be staying in London until February 6, and his request and willingness to hold a meeting with Foreign Secretary Hague is as informed in the letters sent to the FCO on January 29 and 31.
Timerman arrived in London for a 'Malvinas week' activity to put forward Argentina's case before the Argentine/UK multiparty parliamentarian group in Westminster and on Wednesday at the Argentine embassy will hold a meeting with 18 European Union groups that support the resumption of Falklands' sovereignty discussions between the UK and Argentina.
The Argentine minister last week rejected a meeting with Hague if it was to include representatives from the government of the Falkland Islands, since Argentina does not accept supervisions from third parties much less from the 'illegal government' of the Islands, which it describes as 'a colonial settlement implanted by the colonial power'.
However the Foreign Office argues that it is 'right and proper" that Falklands' representatives should be part of the discussions when they refer to Islands' issues and insists that Timerman was informed in advance that this would happen.
To emphasize Argentina's position Ambassador Castro insisted on Monday that "there is no third party in the negotiation for the Malvinas Islands sovereignty", and accused the British government of "mounting a media operation aimed to show Argentina as the ones that refuse to dialogue."
Castro denied the inclusion of the British Islanders as part of the discussion over the sovereignty of the Falklands/Malvinas Islands. A debate that also includes Argentina's sovereignty claims over the South Georgia, and Sandwich islands.
"The dispute is between Argentina and the United Kingdom, and that's how both the international community and the United Nations recognize the matter. There's no third party involved.
Likewise, Castro accused UK's Foreign Secretary William Hague of "trying to distort the meaning and the political objectives of what had to be a two-party meeting. Sadly, it's the UK who refuses to change its clear position which is of not showing any will toward resolving the controversy."
Finally Castro remarked that "what Hague is doing is not acceptable at all. He pretends to force Minister Timerman to discuss the Islands sovereignty with officials of the archipelago occupied by the UK."