Falklands willing to meet Timerman 'any time' for rational conversation as 'one human being to another'
Wednesday, February 6th 2013 - 19:50 UTC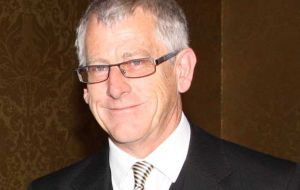 The Argentine government refusal to speak to the Falkland Islands representatives is 'unacceptable" in this day and age of modern democracies. Nevertheless the two Falklands lawmakers currently in London have said they would be very happy to meet with Foreign Minister Hector Timerman at any time this week to have "a rational conversation as one human being to another".
"The refusal of the Argentine government to speak to us is quite frankly unacceptable in this day and age of modern democracies", said Member of the Falklands elected Legislative Assembly Dick Sawle who on Tuesday tried to present Mr Timerman with a letter and a booklet "Our Islands, Our History" following his meeting with MPs at the House of Commons.
"This was a real letter with real intention behind it. All we wish to do is talk and I can see no harm in that for anyone. It comes as no surprise however that he refused to meet with us or even to speak with me when I introduced myself and attempted to hand him the letter and the booklet "Our Islands Our History"
MLA Sawle recalled he met the same reaction when he attended the Parlamerica conference last year in Panama and "I tried to engage in a friendly fashion with their delegation and also with the Argentine Ambassador to Panama. They simply refused to speak".
"We are clear in our intentions...we are neither hostile nor unreasonable people, we simply wish to talk which, of course, is something that the Argentine government publicly states it also wishes to do, but seems just as fiercely opposed to putting into practice", said MLA Sawle.
That letter, which was later delivered to the Argentine embassy, "simply says that there's no need to worry about talking to us, we are perfectly reasonable, perfectly rational people and there are areas of mutual interest that we could discuss and obviously sovereignty is not one of them"
Likewise MLA Sawle underlined his hopes that "other countries will appreciate the great efforts we have made in trying to engage with Argentina and respect our attempts to do so".
Finally MLA Sawle again repeated the message via the press: "if Mr Timerman wishes to meet with either myself or Jan (Cheek) or both of us, then we're happy to meet him at any time during this week in London, just to sit down to have a rational conversation as one human being to another".
But despite the still non formalized meeting with Timerman, MLA Jan Cheek said it has been a very successful week for the Falklands.
"People are very friendly, very interested and although one never knows what they will publish or edit in an interview, overall there has been a good understanding of the issue", said MLA Cheek.
And as to Mr. Timerman attitude so far, "it was absolutely to be expected but it makes a point; we're saying 'come on, let's talk about matters of mutual interest' like managing fisheries and the South Atlantic and they're saying 'no we won't talk to you'. It simply makes nonsense of their message about wanting to talk about the Islands"