Timerman comments on the Falkland Islanders and Jewish settlers 'offend' MPs
Wednesday, February 6th 2013 - 18:50 UTC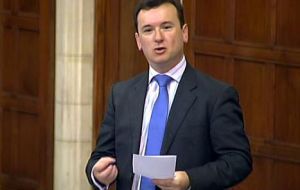 British Member of Parliament Alun Cairns, and a member of the All Party Group on Argentina, said he was offended by some the comments made by Argentine Foreign Minister Hector Timerman during their meeting to discuss the Falklands issue on Tuesday in the House of Commons.
"Effectively, he (Timerman) dismissed the right of self-determination to the Falkland Islanders on the obscure reason that it's a territory rather than a country or a nation" said MP Cairns.
The Conservative Tory MP for the Vale of Glamorgan and Welsh Assembly member also said he took offence at Mr Timmerman's comments comparing the Islanders with the Israeli settlers in the West Bank.
Dismissing the referendum as illegal Timerman said "it is something that doesn't mean anything because if you ask the colonial people who came with a colonial power and replaced the people who were living in the Islands, it is asking the British citizens of the Malvinas Islands if they want to remain British".
Timerman likened it to asking only new Jewish settlers in the Occupied Territories if they want to remain Israeli.
The Argentine minister also surprised the MPs when asked about developing relations with the Islanders as a way of reaching a settlement. "I don't have to persuade them. The United Nations says there is a conflict between the United Kingdom and Argentina. I don't have to persuade anybody. We have to apply international law and accept the resolutions, if not the UN becomes a body that is only useful when it backs the powerful."
Likewise he said that "nobody is interested in changing the way of life for the inhabitants of the Malvinas", adding that "what we do believe is that the 5-thousand square kilometers that are in dispute should be resolved and they (the British government) shouldn't continue to put off talks or make excuses over who should be seated at the table."
Timerman had been due to meet with Foreign Secretary William Hague, but last week Timerman refused to accept that Falkland Islands representatives should be present if the Falklands' issue was to be considered in the talks.
Hague later declined Minister Timerman request for a one-on-one meeting, and insisted on bringing in members of the Falkland Islands Government, which Argentina does not recognize as legitimate