Under-20 Bolivia-Argentina match under investigation by European police
Wednesday, February 6th 2013 - 22:03 UTC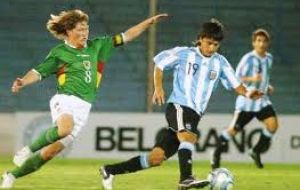 European police investigation into a huge football match-fixing and betting ring has reopened questions about an under-20 friendly between Argentina and Bolivia two years ago. The game, played in Córdoba in December 2010, was mentioned in the European investigators' inquiry.

It raised eyebrows at the time after the Hungarian referee let play continue for an extra 13 minutes before blowing the final whistle. The referee, Lengyel Kolos, declined to speak to reporters about the match this week.

However, former Argentine under-20s coach Walter Perazzo said the lengthy injury time, which allowed Argentina to convert a late penalty into a 1-0 victory, had prompted questions on the home team's bench.

"We were surprised that the match was extended" he was quoted by Reuters. "At the time, a lot of us wondered if the referee was maybe used to a different style of football."

Perazzo, who now coaches a second-division team in Argentina, said that he saw no other questionable decisions during the match. "The penalty was a penalty; the strange thing was the 13 minutes."

Marco Sandy, the Bolivian under-20s coach, declined to comment on the European investigation unveiled in The Hague. In an interview soon after the match, Sandy said the team had experienced "strange situations" with the same referee in other games. When asked whether he thought the match might have been subject to fixing, Sandy said at the time: "It would be a good thing if they investigated it, because (this is) bad for the sport."

Match reports after the game questioned several calls made by Kolos and his two linesmen, including the referee's decision to disallow a second-half Argentina goal and order a penalty against Bolivia in the final moments of injury time.

Police had to accompany Kolos off the pitch at the end of the game as angry Bolivian players hounded him.

Bolivia's football federation welcomed news of the European probe.

"Bolivia wasn't involved in this kind of match-fixing; on the contrary, it was the victim...in that game in 2010, it was obvious that there was a clear intention to hand victory to Argentina," the Bolivian federation's general manager, Alberto Lozada, was quoted as telling local media in the Andean country.

Argentine officials dismissed links between the 2010 match and the investigation.

"This issue doesn't exist for the Argentine Football Association...I've got nothing else to say," said Ernesto Cherquis Bialo, spokesman for the Argentine Football Association. A source at the association, who asked not to be identified, said the issue "didn't even get mentioned in the last meetings of the executive committee".