India signs ambitious mining agreement with Uruguay
Saturday, February 9th 2013 - 09:16 UTC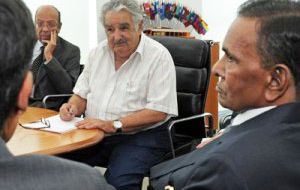 India has shown great interest in mining iron ore, granite, gold and diamond in Uruguay and has entered into a deal for exploring and encouraging investment opportunities in the mining sector, according to Indian sources visiting Uruguay.

"There is a huge potential for mining of iron ore, granite, gold and diamond, which can be explored by Indian companies in Uruguay. I believe the two countries can collaborate to utilise each others strength in areas of mineral exploration" said Steel Minister Beni Prasad Verma, who met President of Uruguay Jose Mujica in Montevideo.

Verma is on a visit to Uruguay and discussed points to improve co-operation in the mining sector between the two countries, an official statement said late Thursday.

Verma also met Minister of Industry, Energy and Mining, Roberto Kreimerman and discussed various aspects of joint exploration and production of minerals in the country.

"During the visit a Letter of Intent (LoI) was signed by D R S Chaudhary, Secretary Steel, Government of India and Roberto Kreimerman, Minister, Industry, Energy and Mining, to explore and encourage investment opportunity in iron and steel sector and to facilitate exchange of technical know-how in iron ore and steel related raw materials," the statement said.