Major Commonwealth parliamentary conference opens Tuesday in the Falklands
Saturday, February 9th 2013 - 00:34 UTC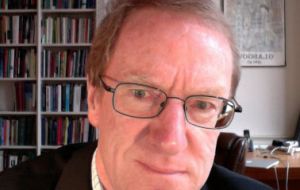 The 43rd British Islands and Mediterranean Region Annual Conference of the Commonwealth Parliamentary Association which is being hosted by the Falkland Islands for the second time will begin next Tuesday and will convene 37 delegates with Canada and Anguilla as observers.
The British Islands and Mediterranean Region is made up of branches from Alderney, Guernsey, Jersey, Isle of Man, Scotland, Wales, Northern Ireland, CPA UK, St Helena, Cyprus, Malta and the Falkland Islands.
The official arrival date for delegates, invited observers and guest speakers is Monday 11th February, with departure on Friday 15th February.
The theme of the two-day conference is "Self-Determination and its role in Self Governance and Devolution".
The Opening Ceremony Tuesday morning will include performances by children from both the Infant and Junior School and Falkland Islands Community School.
The Tuesday Plenary Session on 'Self-Determination and its role in Self Governance and Devolution' will be chaired by Margaret Mitchell MSP with the Rt Hon Baroness Scotland of Asthal QC as lead speaker.
MLA Mike Summers will chair the Plenary Session 2: 'Arguments about Self-Determination' and this will begin at 1345 with Professor Michael Keating as Lead Speaker.
Plenary Session 3: 'The Right to Self Determination is not curtailed by Sovereignty Claims', begins on Wednesday at 0900 chaired by MLA Sharon Halford and will include a speech written by Fabian Picardo Chief Minister of Gibraltar and delivered by the Hon Samantha Sacramento MP.
At 1345 the Open Plenary: 'Experiences in the Development of Greater Regional and National Autonomy will begin'. MLA Dick Sawle will Chair with Hon Isobel Ellul-Hammond (Gibraltar) as Rapporteur. Delegates will be given five minutes to speak by show of hands.
At 1500 there will be a round up of key points from conference with MLA Jan Cheek as Chair and Rapporteurs the Hon Juan Watterson MHK (IoM), the Hon Tony Wild MLC (IoM) and the Hon Isobel Ellul-Hammond (Gibraltar).
The closing session will be at 1530 with speakers Keith Biles, MLA Dick Sawle and The Rt Hon Sir Alan Haselhurst MP.
All open sessions of the conference will be broadcast live by Falklands Radio. (PN/FIRS).-