Gibraltar delegate to address 'self-determination and sovereignty claims" at Falklands' conference
Monday, February 11th 2013 - 21:14 UTC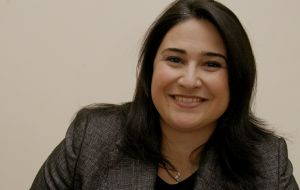 The 43rd British Islands and Mediterranean Region Annual Conference of the Commonwealth Parliamentary Association hosted by the Falkland Islands for the second time begins on Tuesday. Over forty delegates have travelled to the Islands for the Conference and Falklands Radio will be broadcasting some of the sessions.

From Gibraltar it was reported that a delegation from the Gibraltar Branch of the Commonwealth Parliamentary Association is attending the Stanley and is made up of Samantha Sacramento, Minister for Equality and Social Services leading the delegation and Opposition Member Isobel Ellul-Hammond. The Honorary Secretary of the Branch, Melvyn Farrell, will accompany the delegation.

The Conference theme is: "Self Determination and its Role in Self Government and Devolution". Minister Sacramento will be one of the three keynote speakers at the Conference and will be delivering a speech on the topic: "The right to self-determination is not curtailed by sovereignty claims". This will be followed by a question and answer session.

Gibraltar Opposition Member Isobel Ellul-Hammond will be the Rapporteur at an open plenary, the subject of which will be: "Experiences in the development of greater regional and national autonomy".

This Conference will be taking place shortly before the Referendum in March in which the people of the Falkland Islands will be asked if they wish to retain or not, their current status as an Overseas Territory of the United Kingdom.