"Pseudo referendum" is provocative and offensive says Malvinas Forum, Uruguay
Monday, February 11th 2013 - 04:47 UTC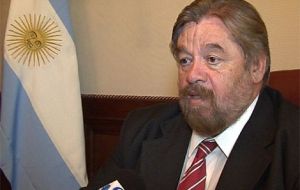 The Malvinas Forum, Uruguay chapter released a declaration strongly criticizing lawmakers and institutions that have announced they are planning to travel to the Falklands' for the March10/11 referendum.

The Forum met last Friday to celebrate its first anniversary in Maldonado and considered "provocative and offensive" the fact that Uruguayan institutions and lawmakers have been convened to attend the "pseudo-referendum" in the Malvinas Islands as witnesses or observers since that "ignores what constitutes a firm regional position regarding the Malvinas question and runs over what has been the historic position of Uruguay and the essence of the Uruguayan people".

"It is clear that this invitation from the British authorities is only geared to legitimize the last of the colonial settlements in our South American territory", adds the document.

During the event Argentine Ambassador Dante Dovena announced that he would be asking the government of President Cristina Fernandez to honour with the medal of "The Liberator San Martin Order" the Mayor of Colonia, Walter Zimmer and Senator Luis Rosadilla.

The Malvinas Forum, chapter Uruguay among its relevant members includes Foreign minister Luis Almagro and Defence minister Eleuterio Fernandez Huidobro.

Ambassador Dovena described the Falklands' referendum as "theatrical" and said it was like "asking if they like water. Nobody likes water as such but we all need it, thus it is a question which needs not even consideration".

"Asking the Islanders if they wish to remain British is obvious they will say yes. That is not the question, the question is that they are illegal settlers on Argentine soil", said Ambassador Dovena.

He added that Argentina does not want to infringe in the "lives of the British people in Malvinas; we want to defend their interests because they are in Argentine territory, but this does not mean we must consent their wish to remain British. This is not in their hands because peoples' self determination refers to indigenous populations and this is an implanted population following an illegal occupation and forcible usurpation, which besides the UN does not recognize".