Saturday,
February
16th
2013
- 20:39 UTC
Cristina Fernandez inflation index for January less than half private estimates
Official inflation in Argentina increased 1.1% in January compared to the previous month, Indec national statistics bureau reported on Friday. The hike in prices was led by transport as train and bus fares increased by 6.1%. The annualized rate jumped to 11.1%.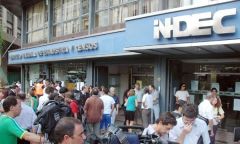 January's inflation rate is the highest since February 2010, and the second highest since the former president Néstor Kirchner's administration intervened the national statistics bureau, Indec. Since then both under Nestor Kirchner and his successor and wife Cristina Fernandez, Argentine official stats have become doubtful and unreliable.
In effect the price index produced by a handful of private economists and released by opposition congressmen, the so called Congressional index and which is used as a reference for the economy and labour costs, was up 2.58% on the month and 26% on the year in January.
The latest release from Indec also established that in Argentina a person needs 233 Pesos per month not be considered indigent, since that is the sum needed to cover minimum food needs which works out at 7.77 Pesos per day. The sum at the official exchange rate is equivalent to 1.60 US dollar and in the black market, just one dollar.
Indec said that the Basic Food Basket for an adult, 233.33 Pesos per month in January represents an increase of 0.18% over the previous month and 12.44% in the last twelve months.
Likewise the so called Total Basic Basket, which marks the poverty line, shows a person needs more than 529 Pesos (105 and 68 US dollars) per month not to be considered poor. This represents an increase of 1.37% over December and 14.86% in the last twelve months, which are percentages well above the questioned official Indec index for January, 1.1%.
In other words a standard family of two adults and two children of ten years old need 720.37 Pesos (144 and 93 US dollars) per month not to the considered indigent, and 1.635,56 Pesos (323 and 220 dollars) per month to be above the poverty line. According to Indec both poor and indigent families spend most of their incomes in food, an item which was up 0.3% during January.
For Argentina's Social Development ministry, the indigence line is the minimum income estimated for a person to satisfy its food needs. This is represented by a basic food basket, with the sufficient caloric and protein content to satisfy a minimum nutritional requirement.
The poverty line is estimated as the minimum income for a person to satisfy his basic needs. It is calculated on the cost of a basic food basket to which a multiplier is applied.
Argentina's unreliable official stats was censured this month by the IMF for failing to meet its reporting standards for economic data, the first such official warning in the organization's history.
The IMF called on Argentina to address the "inaccuracy" of its inflation and GDP data no later than Sept. 29. The IMF censure lays the groundwork for possible sanctions against Argentina that may include the loss of borrowing and voting rights, and even expulsion from the IMF.