Morales nationalizes control of Bolivia three main airports
Monday, February 18th 2013 - 16:29 UTC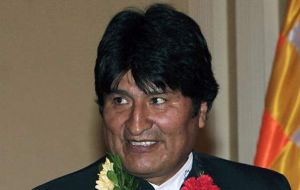 Populist Bolivian President Evo Morales on Monday nationalized control of the country's three main airports from Spain's operator Abertis-Aena, arguing that the company had not fulfilled investments commitments promised for years.

On Monday the government of Bolivia decided to seize control of the shares from Servicios Aeroportuarios Bolivianos, S.A., Sabsa, announced President Morales during a ceremony in Cochabamba.

He went further and accused the Spanish companies Albertis-Aena of "looting Bolivia's air terminals" business.

"I want to let the people of Bolivia know about the nationalization of Sabsa," Morales said in a televised speech.

"SABSA invested 3.7 million dollars and made a profit of 20 million dollars" claimed Morales who added that the Spanish operators with an initial investment of 3.7 million dollars ended managing 430 million dollars annually.

Morales has steadily tightened state control over the landlocked country's small economy since taking office in 2006. Earlier this month, a government minister said a Sabsa proposal to invest 36 million dollars over the next nine years was insufficient and that a decision on scrapping the concession would probably be made sometime in February.

Infrastructure company Abertis will be paid compensation for Sabsa on the basis of an independent audit that will take into account any debts, Morales said.

This is not the first nationalization of Spanish assets. Last year Bolivia took control of several power transmission and distribution companies affecting Spain's Red Electrica and Spanish utility Iberdrola. Despite compensation pledges no agreement has been reached yet.

At a summit of European and Latin American leaders in Chile last month, Spanish Prime Minister Mariano Rajoy urged the region's governments to respect Spain's investments.

Sabsa has operated the airports of Cochabamba, La Paz and Santa Cruz since privatization in the nineties.