Buenos Aires City property sales plummet 27% in 2012 because of the dollar clamp
Tuesday, February 19th 2013 - 05:24 UTC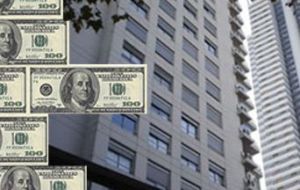 Property sales in the City of Buenos Aires plummeted 27% during 2012 according to a release from the Notaries College of the Argentine capital. The release shows 46.627 deeds were signed in 2012, which represents a significant 27% shrinkage in comparison to 2011 while the figure in Pesos dropped 21.2%.

Last December sales dropped 29.3% compared to the same month in 2011, with a total 4.474 commercial operations, while the turnover of transactions was down 28.5%.

The Buenos Aires City Notaries College also showed that the average operation during the last month of 2012 was 464.305 Pesos, which represents a 1.1% gain over a year ago.

However the release also indicates that the retraction in the number of daily operations has stabilized at 25.6% compared to December 2011. This also shows that the number of deeds in the last quarter of 2012 has been climbing sustainedly 2.3%, probably indicating a modest bounce back.

Likewise a registry of deeds in five segments by increasing value shows that those operations of up to 150.000 Pesos remains with one of the highest percentages since April 2011, equivalent to 19.5% of the total. At the other extreme, over 900.000 Pesos, the number of operations climbed from 8.9% to 9.3%. The segments that have lost significance are those from 150.000 to 900.000 Pesos according to the Notaries College.

The dramatic drop in overall operations is attributed to the so called dollar clamp which impedes Argentines to make transactions and save in US dollars, which traditionally in Argentina in the property market has been the currency reference

Decades of inflation, hyper inflation and monetary chaos has made Argentines take refuge in the greenback mistrustful of their currency, the Peso.