Correa pledges land distribution, media clamp but also mining law to attract investors
Tuesday, February 19th 2013 - 05:34 UTC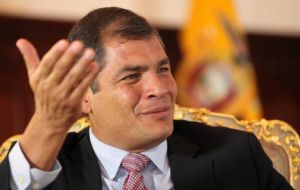 Ecuadorean President Rafael Correa, 49, vowed to press ahead with laws to control the media and redistribute land to the poor as he looks to deepen his revolution after a resounding Sunday re-election victory. Correa has already been in power six years and will add another four.
However Correa will have to balance his desire for a populist agenda with the need for pragmatic negotiations with foreign investors to raise Ecuador's oil production and spur the mining industry. And on Monday he focused on his reforms saying he'd push through legislation that has been blocked by opposition leaders in Congress.
"The first thing we'll do is to push through key laws that have been left to wither as a way of hurting Correa, but this has actually hurt the country," Correa said in an interview with regional television network Telesur.
Those include a proposed land redistribution drive to give terrain deemed unproductive to poor peasants and setting up a showdown with large banana and flower producers. He also plans to create a state watchdog group to determine if media have published inappropriate content.
In addition, Ecuadoreans voted for a new Congress on Sunday and Correa said he expected his ruling Alianza Pais to win a majority. That would help speed his efforts to pass the proposed legislation.
But he is also expected to pass a new mining law that would ease investment terms as a way of helping close a deal with Canada's Kinross to develop a large gold reserve. That will be a major test of his ability to offer investment security while ensuring the state keeps a large portion of revenue.
The vice-president of Kinross in Ecuador, Dominic Channer, said that "good progress" had been made in the negotiations.
"Kinross ... understands that the government plans to send mining and tax reforms to the National Assembly. These reforms should provide improvements to investor security and an improved economic balance for mining projects" Channer told Reuters.
With almost three-fourths of votes counted by Monday afternoon Correa had 57% support compared with 23% for conservative candidate Guillermo Lasso. The election established Lasso, a former banker from the coastal city of Guayaquil, as the face of the opposition. Six other candidates trailed way behind.