UK media says Iran/Argentina accord could hide missile project with Falklands' range
Monday, February 25th 2013 - 06:13 UTC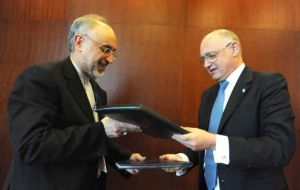 British tabloid The Sunday Times indicated on Sunday that the Iran-Argentina accord on the investigation of the AMIA bombing case could also hide a joint missile development project. Furthermore, the paper assured "Argentina is developing missile technology that could threaten the Falkland Islands."

The dubious article remarks that Sunday Times reporters have learnt that "military scientists in Argentina are building a rocket capable of being fired into space to an altitude of about 400 kilometres, at a time when its relationship with Iran — which has significant missile capabilities — appears to be warming."

Experts believe such technology could, in time, develop into a missile with a range of up to 372 miles.

The British tabloid assures that such technology would put any missile "easily within range of the South Atlantic archipelago", which are about 480 kilometres from the Argentine mainland, and "could transform the balance of power in the south Atlantic."

Lord West, the former UK's security minister and first Sea Lord, said he believed the only logical reason to develop such technology "was to threaten the Islands."

Likewise, West called on the intelligence services to keep a "very close eye" on the program.

In the seventies and the eighties Argentine nuclear scientists were working closely with Iran helping it to develop its own nuclear program. This was started under the late Shah and after a brief hiatus continued with the Islamic revolution.

At the same time the Argentine military were developing a 500 km range missile in Cordoba, which was continued by the first Argentine elected government in 1983 but was definitively scrapped under President Carlos Menem who followed a foreign policy closely aligned with the US to the extent it sent two warships in support of the first Iraq war in the early nineties.

Likewise all collaboration with Iran in nuclear energy development was also definitively cancelled.

Argentina has long been the country in Latinamerica which has been a leader in nuclear energy development and technology from the fifties. Brazil is only catching up.