Falkland Islands' delegates touring US and Latinamerica to drum up support for self-determination
Wednesday, March 13th 2013 - 04:07 UTC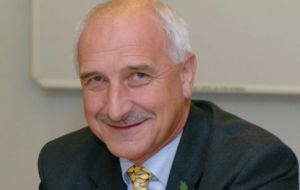 Following the resounding results from this weekend's referendum Falkland Islands delegates will tour the United States, Canada, the Caribbean and Latin America to drum up support for their right to self-determination.
Falklands' lawmaker Mike Summers is already in the US and is scheduled to visit Washington where he expects to talk to US State Department officials and New York, where he will have a meeting at the United Nations.
MLA Summers and other members from the Legislative Assembly will also take the Falklands' message to the international media.
"We're taking the result of the referendum to various countries to ask for support, to encourage them not to sit on the fence, and to show that this is not an argument between Britain and Argentina, it is a human rights issue," he said interviewed by the British media.
"The vote gives us a strong hand. It is an act of self-determination that nations should be able to support even if they don't support the UK."
The initiative appears aimed at countering growing Argentine diplomatic relations. The government of President Cristina Fernandez has lobbied UN and regional bodies, paid for full-page advertisements in British newspapers and, most controversially, restricted access to the Islands. It has persuaded South American neighbors to turn away Falklands-flagged ships, curtailed over-flights and imposed sanctions on companies that exploit the natural resources (fisheries and oil) of the Falklands/Malvinas.
Argentine foreign minister Héctor Timerman, has declared the referendum on the Islands political status and future, "illegal". Alicia Castro, Argentina's ambassador to the UK, described the vote as "totally irrelevant".
"The situation is the same as it was yesterday. We have witnessed yet another delaying maneuver" she told an Argentine radio.
The Falkland islanders have the support of the UK government, which can often be counterproductive in a region where Britain's colonial history is widely reviled.
To get what they say is a distinct message across the community of some 2,900 Falkland Islanders has initiated its own charm offensive, funded from its own budget.
"It's expensive but important. We're trying to secure our political future and to push back against the relentless stream of aggression from Argentina" said Summers. "We have been self-sufficient for some time, apart from defense, so we can afford it. The only stress is that we don't have much time. There are only eight delegates and the world is a big place."
The main target for persuasion is the United States. Islanders said they would try to use the referendum result to shift opinion. The US position is that there are competing claims and Washington recognizes the de facto UK Administration of the islands, but takes no position on sovereignty claims".
The more assertive strategy of the Falkland Islanders is partly determined by economics. Currently, the islands' budget is largely dependent on sales of fishing rights, which can vary enormously from year to year.