BRICS summit to discuss creation of development bank with 50bn initial capital
Tuesday, March 26th 2013 - 05:48 UTC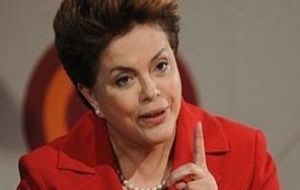 Brazilian President Dilma Rousseff will attend this week's BRICS summit of five emerging powers hosted by South Africa to discuss creation of their own development bank, the Planalto office announced.
Rousseff will join Chinese President Xi Jinping, Indian Prime Minister Manmohan Singh, Russian President Vladimir Putin and South African President Jacob Zuma in Durban on Wednesday.
The talks will focus on how to spur development and reform international financial institutions such as the International Monetary Fund. The leaders will also discuss security issues.
But the top agenda item is likely to be the establishment of a development bank, meant to fund infrastructure and development projects in member states and developing nations, and a joint foreign reserves fund.
Last month, a senior South African diplomat said the five BRICS nations were considering a capital investment of 50 billion dollars.
Last week, Brazilian Trade and Industry Minister Fernando Pimentel said Brazil and China plan to sign a bilateral accord in Durban to promote trade in their national currencies.
With a combined GDP totaling around 14 trillion dollars, the BRICS have accounted for 30% of global economic growth since Goldman Sachs coined the BRIC acronym in 2001.
Last year, intra-BRICS trade soared to 282 billion, up from only 27 billion 10 years ago.
And Brazil's trade with its BRICS partners totaled 91 billion last year, up from 7.6 billion in 2002, according to the Brazilian presidency.