Brazil new defence purchases policy based on 'geopolitical interests and technology transfer'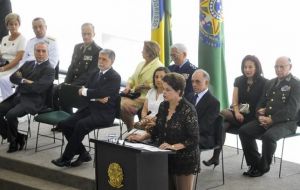 Brazil's defence purchases mainly arms will be ruled by strategic priorities such as geopolitical interests and technology transfers and not only price, according to a decree published in the Official Gazette from the Union.

The decree expands on the Law signed by President Dilma Rousseff in March last year which regulates purchases, contracts and development of defence products and systems in Brazil.

The bill under the heading of 'Law to promote the industrial base of defence' is geared to incentivise Brazil's arms industry so that it becomes the main provider of the Armed Forces; to develop technologies, produce at lesser costs, introduce the most added value to those products and increase exports.

The decree also establishes the criteria for the interested parties in the incentives to be classified as Defence Strategic enterprises. These strategic undertakings will receive incentives to that they can produce at cheaper costs in Brazil and develop technologies, as well as access to credit in favourable conditions.

According to a release from the Ministry of Defence one of the key elements of the decree is the so called Special Bid Term which will allow defence purchases and contracts to follow a logic not only based on the costs of the project, "but also in strategic criteria that can strengthen the national arms industry".

This should enable to take into account "other variables in the bidding process regulation process such as geopolitical considerations and long term macroeconomic factors which can enable Brazilian companies to develop technological capacities and build competitive advantages" said General Aderico Matttioli, head of the Products Department from the Defence ministry.

Defence providers must show "a benefit-cost analysis, define the minimum percentages of national content for the different products; demand innovation capacity and establish criteria so that the material and equipments contribute to increase the technological and productive capacity of the national arms industry".

Finally the new regulations will force foreign companies interested in bidding to build plants in Brazil or be committed to the transfer of technology to Brazilian counterparts.