Argentina forces cancellation of all Lan flights by suspending ground services
Saturday, May 18th 2013 - 03:30 UTC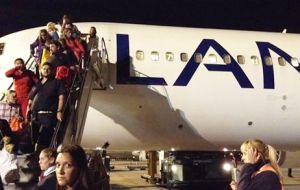 LAN Chile halted on Friday all its flights in Argentina until Saturday morning after the state company Intercargo which provides ground support for the airline, unilaterally decided to cancel the service despite court orders to the contrary.

Intercargo provides Latam's biggest carrier, (now Latam following the fusion of Lan Chile and Tam from Brazil) with ramps at airports, passenger boarding telescopic tubes, luggage handling, manages passenger buses to terminals, cleans aircraft cabins, among other services. With the exception of Aerolineas Argentinas and American Airlines Intercargo services all other airlines operating in Argentine air terminals.

The Argentine service company which is managed by the state and more precisely by members of the political group La Campora that responds to President Cristina Fernandez son Maximo Kirchner alleges that tariffs in the current contract should be raised to comply with new government rules.

Intercargo claims Latam "doesn't want to pay more than what was agreed initially" and currently has a debt of almost 40 million pesos (7.6m dollars). The company has also been warning Latam for months that it wants a review of the original contract signed two years ago and which expires March of 2014 with a monthly payment of 2.7 million dollars (32.4m annually).

However Latam says it has no arrears and has two separate (no-innovation) judicial decisions ordering Intercargo to resume the service, plus a 200.000 dollars daily fine if it does not comply.

But Intercargo apparently is ignoring court orders and has cancelled all services provided to Latam until the carrier does not accept to pay an additional 18 million dollars annually for its services. Confirming its determination passengers from a Lan Chile aircraft that landed in Bariloche Friday evening were left stranded on board for over two hours before they could descend.

Last March/April Lan had its first clash with Intercargo when they refused to provide the telescopic tubes for boarding passengers. Following the first court order Intercargo resumed the service but only in Ezeiza and insisted that Latam must pay an additional 18 million dollars for the whole operational package.

Lan Chile not only is Latam's largest carrier but is among the short list of most efficient and profitable airlines in the world. The carrier has become the main (and formidable) competitor of the nationalized Aerolineas Argentinas, which is also managed by members of La Campora, the militant group headed by Maximo Kirchner.

Aerolienas despite government support and privileges, and recently incorporated brand new mid-range Brazilian aircraft, continues to run a heavy deficit which congressional reports indicate is close to two million dollars per day.

According to Clarin, Intercargo was intervened by the Argentine state ('to ensure the continuity of services') in December 2012 and is headed by Maria Emilia García, 29, a protégé of Deputy Economy minister Axel Kicillof, and despite the service group receiving 32.4 million dollars annually from Lan, is demanding the additional 18 million.

Kicillof who is one of the brains behind President Cristina Fernandez economic policy is a young brilliant technocrat but professes a blend of Marxism and Keynes with a strong nationalist emphasis and state dominance over the Argentine economy.

Intercargo's attitude is seen as a further advance of the Cristina Fernandez administration against efficient Lan Chile, this time with the aggregate that it is the government which is in contempt of court rulings, from the moment it took over the company.

Lan Chile says 140 flights and an estimated 16.400 passengers have been affected by Intercargo's services refusal.

In Santiago Lan Airlines officially informed that all flights to and from all Argentine airports as well as all Lan Argentina domestic operations have been cancelled until Saturday 09:30 in the morning.

"The company has been prevented from operating flights because of the unilateral decision from the Argentine ground services state company Intercargo to suspend the service it provides to Lan Airlines".

An estimated 600 passengers were complaining at the Santiago airport because their flights to Argentina on Friday afternoon and evening had been cancelled, and there are no more seats available until at least Saturday midday.