Falkland Islands: Argentina blasts UK's 'double standard' on self determination right
Monday, May 20th 2013 - 07:12 UTC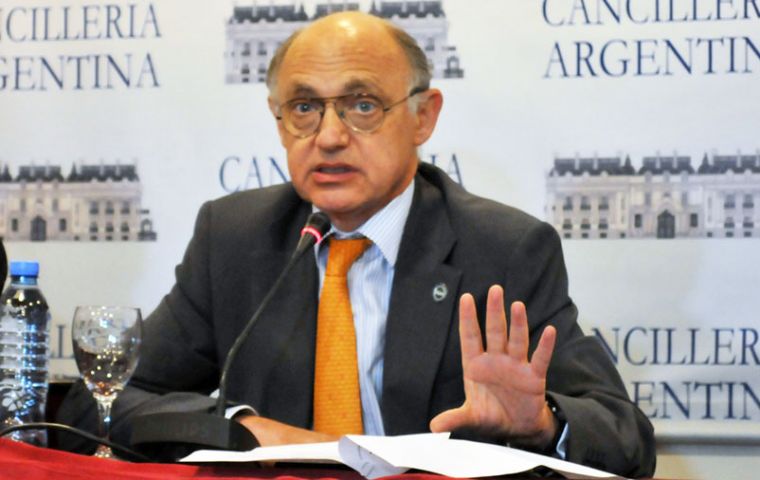 Argentina questioned the UK after its negative vote at the United Nations General Assembly "to place French Polynesia back on the UN list of non autonomous territories that should be decolonised" Additionally Argentina renewed its claim over the Falkland Islands sovereignty and described the UK attitude, 'colonial hypocrisy'.
The UN General Assembly last week affirmed "the inalienable right of the people of French Polynesia to self-determination and independence." Four countries - the United Kingdom, the United States, Germany and the Netherlands - "all disassociated themselves from the consensus vote", and France walked out of the chamber.
Foreign Minister Héctor Timerman in an official release stated Argentina is convinced "the UN shall revise the decolonization process. We demand it for Malvinas and all colonial enclaves still existing in the 21st century" Timerman stressed.
"The UK once again shows its double standard regarding the peoples' right to self-determination" when voting against the resolution that benefits French Polynesia, when in the case of Malvinas it tries "to force the interpretation" of such right.
"The UK forces the interpretation of the right to self determination in the case of Malvinas but denies it to the peoples of Polynesia and Chagos; Colonial hypocrisy".
"French Polynesia has been inhabited since the year 300 by autochthonous Polynesians and has been prey of different colonial ambitions for centuries. In 1889 France made it a protectorate and in 1946 changed its status to French Overseas Territory", says the release.
While this happened in Polynesia the UK pretends to implement that inalienable right to an implanted British population following a military occupation of the Malvinas Islands with the sole purpose of concealing an anachronistic colonial situation.
The release also recalls that "none of the over forty UN resolutions on the Malvinas question refer to self-determination", but rather are defined as "a special and particular colonial case which involves a sovereignty dispute between Argentina and the UK, and calling on both sides to resume bilateral negotiations".