Wednesday,
May
22nd
2013
- 18:00 UTC
China/Latam trade expanded 8% in 2012 and region's deficit jumped to 6.6bn
Latin America's trade deficit with China jumped to 6.6 billion dollars last year from only 150 million in 2011, according to an analysis by online publication Latinvex based on new data from the IMF. Total trade between China and Latin America grew 8% last year to 255.5bn which means the region's trade with China is growing faster than with the United States, 6.2%.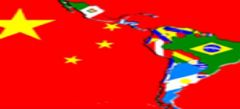 However, Chinese exports to Latin America grew at twice the rate as its imports from the region. China's exports to Latin America grew 10.7% to 131bn, while imports increased 5.3% to 124.5 billion dollars.
Venezuela led the way in Latin American growth of exports to China and imports from the Asian country in real terms. In percentage terms, three of the top four trade growth winners are from Central America (Honduras, Costa Rica and Nicaragua). And when it comes to Latin American exports to China, the top three countries in percentage increases are from Central America (Nicaragua, Guatemala and Honduras).
Meanwhile, Brazil and Mexico remain China's top trading partners in Latin America, but both saw a slight decrease in their exports to China due to the slowdown of the Chinese economy last year.
China's trade with Venezuela, its fourth-largest trade partner in Latin America, grew by 5.7 billion last year to 23.7 billion. That was the largest increase in real terms. Chinese exports to Venezuela grew by 2.8 billion, also the largest growth in real terms and the second-largest increase in percentage terms (43.3%).
Venezuelan exports to China grew by 2.9 billion to 14.4 billion, the largest increase in real terms in Latin America and the largest in percentage terms among China's top five trade partners.
Last year was not a fluke, but cemented a growing trend in Chinese-Venezuelan trade. In 2010, Chinese exports to Venezuela were 3.6 billion, or three times less than last year. Venezuelan exports to China that year were 6.6 billion, or less than half of last year's levels.
China's trade with Brazil reached 85.5 billion, an increase of 1.16% from 2011. That was the fourth-worst performance in Latin America last year. However, that means China remains Brazil's top trading partner, ahead of the United States (which traded 75.8 billion of goods with Brazil last year), according to Latinvex.