FAO recommends using jellyfish for food and cosmetics to help falling fish stocks to recover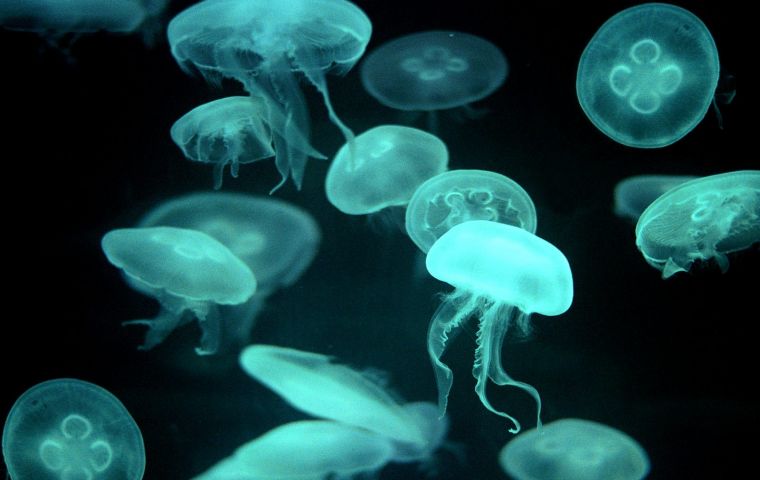 The United Nations Food and Agriculture Organization, FAO, warned over-fishing in the Mediterranean was boosting jellyfish, which reduce stocks further and it called for jellyfish to be used in food, medicine and cosmetics.

The report said over-fishing had increased the number of jellyfish because it had removed their main predators from the food chain. In a "vicious circle", the jellyfish then feed on fish larvae and young fish "and further reduce the resilience of fish populations," the report said.

Under the heading of 'Review of Jellyfish Blooms in the Mediterranean and Black Sea', the reports points out that fish stocks had still not recovered from a surge in the mauve-coloured Pelagia jellyfish in the Adriatic 20-30 years ago.

The report pointed to other possible factors behind the growing number of jellyfish besides over-fishing, including global warming and the increase in fertilizers and sewage in the water which increases the nutrients for jellyfish.

Another issue is the prevalent use of sea walls on jelly fish populations. The walls built to prevent coastal erosion create ideal habitats for some jellyfish.

It suggested that among the ways to reduce the jellyfish populations in the Mediterranean could be increased use of medusas as food or medicine.

Noting that China is among the first countries to process jellyfish for human consumption, particularly the edible Rhopilema esculentum, the report said the move represents a multi-million-dollar sea food business in Asia.

It also said that the discovery of an "immortal jellyfish", which is capable of reversing its ageing process, held out the promise of developing powerful rejuvenation products for humans.

Some experts cited in the FAO reports cautioned that jellyfish could supplant fish in the world's oceans if the current trend continues. They also warned of "a global regime shift from a fish to a "jellyfish ocean."

The report said the impact of jellyfish was demonstrated in the early 1980s when Mnemiopsis leidyi, a jellyfish species known as the "Sea Walnut" and normally resident in the Atlantic, was accidentally introduced into the Black Sea and had such "overwhelming" impact on fish populations that fisheries were "on their knees."

The problem was resolved after another invader species, the Beroe ovate, which feeds on Mnemiopsis, also arrived in the Black sea, thereby re-balancing the predator-prey dynamic.

The report cited another example in which overpopulation of Pelagia noctiluca jellyfish, known commonly as "the mauve stinger," contributed to fish populations dropping in the Adriatic about 30 years ago.

More recently, according to a media report in November 2007, a 26 square kilometres swarm of the jellyfish wiped out a 100,000 fish salmon farm in Northern Ireland causing some 1.5 million dollars worth of damage, the reports said.