Brazil JBS becomes largest chicken producer; purchases main tannery in Uruguay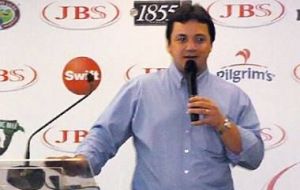 Brazil's JBS SA, the world's largest beef producer, agreed to buy assets from Marfrig Alimentos SA in Brazil and Uruguay, which will make it the world's largest chicken producer. JBS will take on 5.85 billion Reais (2.74bn dollars) in debt for the Seara poultry and pork unit in Brazil and the Zenda tannery unit in Uruguay, the Sao Paulo-based company said in a regulatory filing today.
For Marfrig, the most indebted meatpacker in the Western Hemisphere, the deal means a cut in net debt that jumped sevenfold in the past five years to about 10 billion Reais as of March 31. The acquisition of Seara's local assets would turn JBS into the world's largest poultry producer, surpassing Springdale, Arkansas-based Tyson Foods Inc.
Acquisitions are part of JBS DNA, Chief Executive Officer Wesley Batista said May 15 in an interview in which he added that the company wasn't in active talks. Still, the deal comes a week after Batista said in an interview that JBS didn't bid for Smithfield Foods Inc. because the price was too high.
The JBS-Marfrig agreement was first reported June 8 by O Estado de S.Paulo newspaper columnist Sonia Racy.
Shuanghui International Holdings Ltd., China's biggest pork producer, agreed to buy Smithfield, Virginia-based Smithfield for 4.7 billion in cash, or 34 dollars a share, the companies said May 29. Smithfield is the world's biggest hog producer.
JBS entered the chicken processing business in 2009 with the acquisition of a controlling stake in Greely, Colorado-based Pilgrim's Pride. The company last year leased Brazil poultry plants from France's Doux SA and Agroveneto.
Beef accounted for 64% of JBS revenue in the year ended Dec. 31 and 22%of its sales from chicken meat, its second-biggest revenue source, according to the data.
Marfrig's purchase of Seara from Cargill Inc. for 706.2 million in cash and 193.8 million in debt was completed in January 2010. Marfrig owns three food-processing units under the Seara Foods umbrella: Seara Brasil, which supplies chicken nuggets, sausages and hot dogs to the Brazilian market; Keystone Foods, supplier of hamburger patties to McDonald's Corp.; and Moy Park, in Europe, maker of ready-to-eat chicken meals endorsed by celebrity chef Jamie Oliver.
Seara Brazil's 32 plants slaughter about 1.7 million chickens daily, according to the company's website.
Marfrig net debt equals 4.4 times earnings before interest, taxes, depreciation and amortization. Marfrig aims to cut gross debt by as much as 2 billion Reais, Sergio Rial, head of the food-processing unit Seara Foods, said May 14.
The JBS-Marfrig agreement was reported June 8 by O Estado de S.Paulo newspaper columnist Sonia Racy