Argentine' farmers begin Saturday five-day trading-strike to protest lack of dialogue and taxes
Wednesday, June 12th 2013 - 07:41 UTC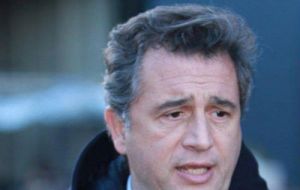 Argentine farming sectors announced on Tuesday a one-week walkout following "serious problems" in the agricultural sector. First step is to suspend sales of all non perishable products from Saturday dawn to Wednesday midnight.
The protest leaders said, some exceptions will be applied to previous agreements such as already announced cattle auctions. Additionally, the protesters will launch a series of strikes and cargo control in several cases.
The so called Mesa de Enlace, 'Liaison Table' alliance brought together Argentina's Rural Society, the Argentine Rural Confederations, the Argentine Agrarian Federation and Coninagro, to outline the 7-day action plan.
"We are going to the walkout because the President (Cristina Fernandez) does not receive us," head of Argentina's Rural Society Luis Etcheverre warned and added that farming leaders have been waiting for a meeting with Cristina Fernández "for three months".
Likewise they have not met with Agriculture minister Norberto Yauhar since May 2012.
He added that the decision was finally adopted following nine 'open assemblies' where the situation and prospects of farming under current policies was analyzed. The motto was "an end to proposals and let's begin organized protests".
Farmers say they were deeply offended by the President when she claimed that "we known what they are up to" in direct reference to farmers reluctance to sell their crops until they have clear what the rules of the game for the coming season's crops at to be.
They also complained about the price gap between what farmers are paid and the end price for consumers which in some cases range from 300% to 1.200%.
CRA Ruben Ferrero also warned that how things are, "we are bit wanting a table for discussions; that's too late, we need solutions to our problems".
Finally the farmers' 'liaison table' called for an increase in the floor minimum for income and earning taxes, and an inflation adjustment for small and medium farmers, as well all Argentines earning a salary, since it is eating at significant rates individual and family incomes, said the release, underlining this it to benefit mainly the small farmer families
Back in 2008, the Liaison Table defied the Cristina Fernández administration with a 129-day lockout over export taxes.