Argentina's nationalized YPF and Chevron sign agreement to develop shale deposits
Wednesday, July 17th 2013 - 07:24 UTC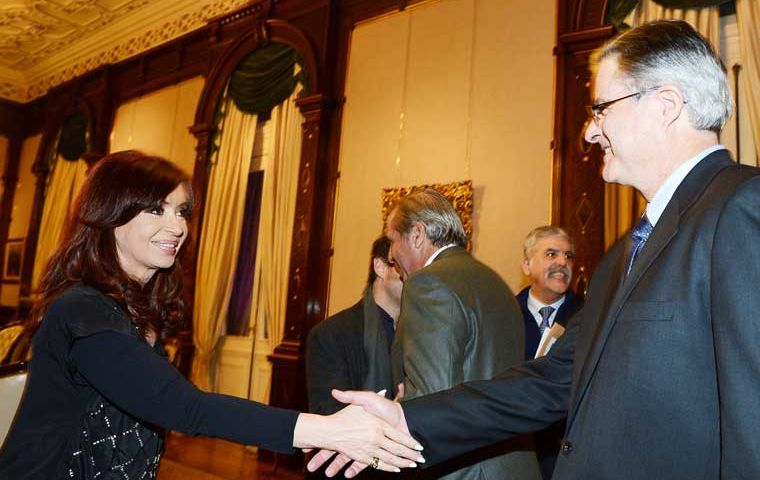 Chevron, the world's second-biggest oil company signed the first agreement with Argentina's government since it nationalized YPF in 2012 to help develop shale oil and natural gas in the Vaca Muerta basin of the Patagonian province of Neuquen.

John Watson, Chevron's chairman and chief executive officer, and YPF CEO Miguel Galuccio signed the accord on Tuesday at YPF headquarters in Buenos Aires to develop the world's second-largest shale gas deposit and fourth-largest shale oil reservoir. The contract finalizes terms for Chevron's initial 1.24 billion dollars investment, which may reach as much as 15 billion. The partnership was first formed in December.

"Vaca Muerta is a world-class asset and fits perfectly in our strong portfolio of unconventional resources" Watson said in a statement e-mailed by YPF. "It is consistent with our strategic objective to enter attractive new areas early in the process."

Argentine President Cristina Fernandez' government seized a 51% stake in YPF from Spain's Repsol in April 2012 to stem fuel imports that doubled to 9.4 billion in 2011 and are expected to rise to as much as 15 billion this year. Argentina said it will offer energy companies incentives if they invest 1 billion dollars or more over a five-year period.

The first phase of the venture between Chevron and YPF calls for drilling 100 wells in a 5,000-acre tract. Daily production is forecast to be 50,000 barrels of oil and 3 million cubic meters of gas by 2017, they said in an Argentine regulatory filing. The companies will be 50-50 partners in the second stage, which requires drilling 1,500 wells, YPF said.

"This partnership is strategic for the company and for Argentina," Galuccio said in the statement. "We are putting into production a resource that can change the energy future of our country."

Chevron's investment will help make Argentina energy independent, Ali Moshiri, Chevron's head of Latin America, Middle East and Africa, said May 16, after touring the shale formation in southwestern Argentina.

Vaca Muerta, may hold at least 23 billion barrels of oil equivalent, according to a report by independent auditor Ryder Scott released in February 2012 by YPF. Argentina holds the world's second-largest shale gas reserves and the fourth-largest for shale oil, according to U.S. Energy Information Administration data.

Chevron Argentina is currently producing an average of 21,000 barrels of crude and 4 million cubic feet of gas in Neuquen Basin, the San Ramon, California-based company said in a separate statement.

The shale investment "provides Chevron with a new opportunity to profitably grow production beyond our 2017 production target of 3.3 million barrels per day," George Kirkland, vice chairman of Chevron, said in the statement.