Chile/Argentina row: Lan Chile evicted from Buenos Aires metropolitan terminal
Wednesday, August 21st 2013 - 18:50 UTC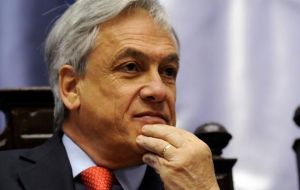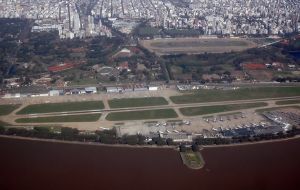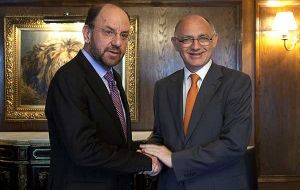 Chilean president Sebastián Piñera has instructed Foreign minister Alfredo Moreno to immediately contact Argentine authorities following the decision by the government of President Cristina Fernandez ordering Lan Chile to move out from the metropolitan airport of Aeroparque in Buenos Aires.

Moreno who has on several occasions informed his peer Hector Timerman of Chile's disappointment with Argentina's air industry and airports authorities attitude towards Lan Chile, is also in permanent contact with Latam CEO Enrique Cueto.

Chilean lawmakers reacted strongly to the latest Argentine measures against Lan Chile describing it as a 'persecution policy'.

"The attitude of the Argentine government towards Lan is of outright persecution. For any integration process, this latest measure and trade protectionism are clearly contrary to that spirit. What has been done to Lan is not a problem for the private sector, the foreign ministry must be involved in the defence of the Chilean company's interests", said Senator Hernan Larrain member of the Foreign Affairs committee.

The Chilean business community also expressed its disappointment and the president of the Production and Commerce Confederation Andres Santa Cruz said "of course we are very much concerned with the situation. We are ready to support the company if they request us".

Lan and Brazil's Tam which have joined into Latam, Latinamerica's largest airline informed of the Argentine eviction decision Wednesday morning to the Chilean Securities Commission. Latam shares have fallen in world markets.

Lan on Wednesday reported that Argentina's Airports System regulator, Orsan, had notified the airline that it must abandon the hangar it operates in Aeroparque Jorge Newbery, the metropolitan air terminal in Buenos Aires.

The recently refurbished hangar with an investment of five million dollars houses Lan Argentina's operations that includes 12 aircraft and 14 destinations in Argentina. Despite all the impediments legal and not legal imposed by local authorities, Lan Argentina already controls 30% of the country's domestic market.

Apparently the eviction is part of a plan to have only government owned Aerolineas Argentina and Austral operate from Aeroparque, since other small airlines have already been moved out.

Lan Argentina was given ten days to move out from Aeroparque despite a signed contract which expires in 2023.

However it must be pointed out that both re-nationalized Aerolineas Argentinas and the Orsan regulator are under the control of La Campora, a political youth group that responds to Maximo Kirchner, the son of President Cristina Fernandez.

The CEO of Aerolines is a young lawyer, son a Peronist lawmaker and who has no background in the air industry and has been unable to cut the airline's huge daily deficit (two million dollars per day according to congressional reports), despite having a fleet of new aircraft for domestic flights.

Likewise the head of Orsna is Gustavo Andres Lipovich, a young teacher with a degree in Geography, who previously was the government's representative in Aeropuertos Argentina 2000, the consortium which has the concession of most of Argentina's air terminals, and Uruguay's Carrasco international airport and now is a close friend of the Kirchners: Eduardo Eurnekian.

Eurnekian also financed the Malvinas memorial at Darwin in the Falklands where many Argentine combatants are buried.

This is not the first time Lan Argentina has had to face obstacles from local authorities. The latest was a dispute in May with the Aeroparque services company Intercargo, also under the control of La Campora, which unilaterally and despite a court order cancelled all its ground services to Lan alleging a debt and demanding a review of the contract that expires in 2014.

Intercargo provides ramps, passenger boarding telescopic tubes, luggage handling, manages passenger buses to terminals, cleans aircraft cabins, among other services. With the exception of Aerolineas Argentinas and American Airlines Intercargo services all other airlines operating in Argentine air terminals.

The original contract of Lan Argentina for these services was 32.4 million dollars annually but Intercargo was demanding an additional 18 million dollars.

The conflict came to an end when Lan accepted the new terms for the services and to pay the additional millions of dollars.

Ignacio Cueto who was in Colombia for the inauguration of a flight with bio-fuel announced he was flying to Argentina and anticipated that his solicitors would be appealing the 'illegitimate' decision.