Argentina's trade surplus down 40% in July; unemployment fell to 7.2%
Thursday, August 22nd 2013 - 00:39 UTC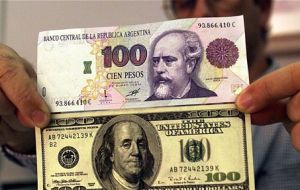 Argentina's trade surplus shrank by 40% in July from a year earlier as surging fuel and auto imports increased pressure on President Cristina Fernandez government's system of currency controls. However the unemployment rate in the second quarter fell to 7.2% according to official data.
July's trade surplus dropped to 770 million dollars from 1.277 billion dollars a year earlier, the government statistics institute Indec said on Wednesday. Imports rose 11% from a year earlier, boosted by shipments of buses from Brazil, trains from China and diesel oil from Russia and the United States. Exports edged up just 2% due to plunging oil and gas exports and stagnant agricultural output.
The trade surplus for the first seven months of the year shrank by 28% from the same period of 2012. That is bad news for the Argentine government, which relies on the surplus to boost dollar supplies on the tightly controlled currency market.
The government repays debts to private creditors using the central bank's foreign currency reserves. Argentina has been effectively shut out of global credit markets since its massive 2002 sovereign debt default.
Argentina's current account, the country's broadest measure of foreign transactions including trade, profit remittances, interest payments and other items, started the year with its deepest quarterly deficit since early 2001.
Meanwhile the Argentine currency weakened on the parallel market to 9.04 Pesos per dollar on Wednesday. The official exchange rate weakened 0.1 percent to 5.60 Pesos per dollar, part of a policy of gradual Peso depreciation that has diverged increasingly from the informal market and currently stands at 61.3%.
A good piece of news was unveiled on Tuesday was that Argentina's unemployment rate fell to 7.2% in the second quarter, according to Indec. The data confirms a decline in the jobless rate that Argentine President Cristina Fernandez had informally advanced in a speech a couple of weeks ago.
The unexpectedly sharp drop in the unemployment rate puts it down from 7.9% in the first quarter. Last week, Argentina's statistics agency said the economy gained traction in June and grew 6.4% from the same month year ago.
However a recent poll by Management & Fit showed that Argentines number three worry after inflation and crime is jobs, despite almost a decade of strong economic growth.
The new jobs data, which the Argentine president unveiled before an important primary election over a week ago, appeared to do little to boost her party's performance in the election. The president's Victory Front coalition lost a significant amount of support in the election compared with its performance in national elections two years ago.
The primary election was essentially a trial run for a midterm election in October, when Argentines will vote for seats in both the Lower House of Congress and the Senate