China's 2014 growth target remains at 7%; this year could reach 7.5%
Sunday, September 8th 2013 - 00:13 UTC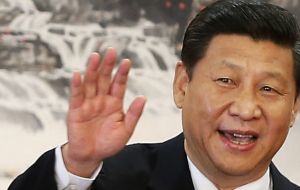 China's government may cut the country's annual growth target to 7% next year, although the actual pace of expansion will be higher, said Fan Jianping, chief economist at a state research institute. The drop would be in line with the goal set in the country's 2011-2015 five-year plan for annual average expansion of 7%.

China's economy is set to expand 7.5% this year, matching the government's target set in March and the weakest pace in 23 years, amid curbs on credit expansion, property development and overcapacity.

President Xi Jinping said this week the government chose to bring down the growth rate to solve "fundamental problems" hindering long-run development.

Fan works at the State Information Centre under the National Development and Reform Commission and made the statements in an interview in Shanghai.

China's economy has stabilized "but rising industrial output and a falling producer prices index shows the recovery lacks momentum," Fan said at a conference in Shanghai. The country's capacity utilization rate is now running at about 72%, he said.

GDP rose 7.5% in the April-June period from a year earlier, the second straight quarterly slowdown. Monthly purchasing managers' indexes, industrial output and export data have strengthened since July, bolstering confidence that Premier Li Keqiang's policies have stabilized the economy.

Goldman Sachs Group Inc. this week joined JPMorgan Chase & Co. and Deutsche Bank AG in raising its third-quarter growth estimate. The bank now forecasts expansion of 7.7%, up from a previous 7.3%, and sees fourth-quarter growth of 7.4%, up from 7%

China's annual growth rate will stay in a range of 7% to 8% over the next few years and the government should use this window to speed up economic restructuring, Fan said at the conference.

Fan said China should stick to the annual target set in the five-year plan. "Why should target be changed every year?" he said. "It shouldn't happen."

China's government sets an annual average growth target for the economy in its five-year plans and the premier announces a goal for the year at the annual session of the National People's Congress every March which may differ.

Although the 2006-2010 plan set an annual average target of 7.5%, the goal announced to the NPC every March of that period was 8%. The country routinely exceeded targets with GDP rising an average 11.2% a year from 2006 through 2010.

While the goal set in the current five-year plan is an annual average 7%, the government announced a 2011 target of 8% in March that year and 7.5% goals in March 2012 and 2013.