Cristina Fernandez now refers to the IMF chief as "Madame (Christine) Lagarde"
Monday, September 9th 2013 - 02:29 UTC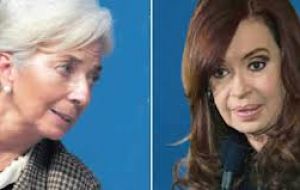 IMF Managing Director 'Madame (Christine) Lagarde' had words of support for Argentina's position in the dispute with 'vulture' (hedge) funds during an informal encounter with Argentine officials on the sidelines of the recent G20 summit in Russia.

According to Argentine sources Lagarde described as a "difficulty" the ruling from the New York Appeals Court which condemned Argentina to pay non restructured bond holders the full face value, plus interests of the defaulted sovereign bonds, an estimated amount of 1.4 billion dollars.

"The IMF considers necessary to preserve the structures that enable sovereign debt negotiations and the protection of States. All that is against these basic considerations represent a difficulty", Lagarde told the Argentine representatives during a casual meeting in the St Constantine Palace where the summit took place.

Despite the ongoing clashes of Argentina with the IMF (referred mainly to the non-reliable government's stats on inflation and GDP), President Cristina Fernandez underlined the attitude of Lagarde in the court case with the 'vulture' (hedge) funds.

A few weeks ago Lagarde admitted that the IMF was ready to come openly in support of Argentina before the US Supreme Court arguing that the NY appeals court ruling puts at risk other debt restructuring of countries in crisis, but it had to desist since the US government said such presentation would mean the 'IMF was losing its necessary neutrality'.

In merit to that attitude and despite other clashes that can be expected in coming days (referred to the stats dispute) during the St Petersburg summit in a rare change of attitude President Cristina Fernandez referred to the IMF chief as "Madame Lagarde".