Energy deficit is Argentina has become dramatic, admits YPF CEO Galuccio
Saturday, September 14th 2013 - 01:27 UTC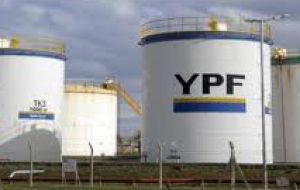 Argentina's oil and gas corporation YPF CEO Miguel Galuccio admitted that the 'energy deficit' of Argentina has become a serious challenge since the country has started to face a serious shortage of light oil for refining.

This shortage has to be added to the natural gas deficit admitted Galuccio before 300 oil industry leaders during the Latin American Oil & Gas summit forum held in Houston, Texas considered the oil international capital of the world.

CEO Galuccio said that although YPF has the Vaca Muerta shale deposits to develop, one of the largest in the world, oil extracted from Argentine wells, the Medanito light oil, the best refining quality in Argentina, has dropped dramatically in the last twelve months.

In effect in 2008 Neuquen province provided an average of 23.959 cubic metres per day of Medanito oil, but by 2012 the volume had dropped 26% to 17.540 cubic metres.