Falklands/Malvinas: Argentina recalls its major UN diplomatic success in 1964/65
Wednesday, September 18th 2013 - 06:54 UTC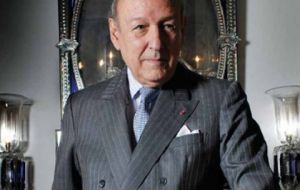 Tierra del Fuego media recalled that on 17 September 1964 a United Nations sub-committee unanimously recommended that the "Malvinas case" be included among issues referred to Decolonisation and thus admits 'the existence of sovereignty dispute over the Falklands and other South Atlantic islands'.

On hearing the decision, Argentina's then Minister of Foreign Affairs Miguel Angel Zavala Ortiz said that "it is the first time that Argentina's rights have been exposed countering the UK pretensions in a privileged forum such as the United Nations".

In the UN General Assembly a year later the Argentine minister again presented the case denouncing "the illegitimate administration which the UK exercises over an integral part of our national territory occupied by violence".

That year (1965) the UN committee on 'colonial affairs' committed itself to address the issue. As a result of the diplomatic offensive, the UN General Assembly, meeting in December 1965, "approved by an overwhelming majority and not one vote against, Resolution 2065 which left reported the sovereignty conflict".

The vote was 94 in favour, 14 abstentions and no negative vote.

The resolution invited both governments "to pursue without delay the negotiations recommended by the Special Committee in charge of examining the situation in respect of the implementation of the Declaration on the concession of independence to the colonial countries and peoples, so as to find a peaceful solution to the problem, taking into account the rules and objectives of the UN charter…as well as the interests of the Falklands/Malvinas people".

Point 2 of the resolution requests that "both governments report to the Special Committee and the General Assembly" in the following session period "on the result of the negotiations"

Finally Tierra del Fuego media underlines that this was 'the greatest diplomatic success conquered by Argentina in its dispute with the UK over the Falklands/Malvinas Islands sovereignty'.