Falklands and oil company discuss temporary port for exploration needs
Friday, September 20th 2013 - 08:10 UTC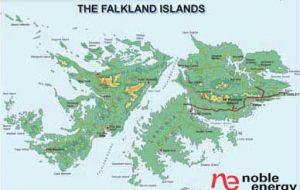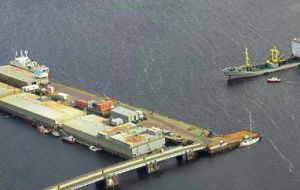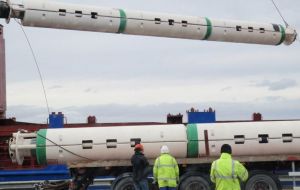 Noble Energy Falkland Islands Ltd continue to negotiate with the Falkland Islands Government on the construction of a temporary port to the east of FIPASS prior to progressing the application for planning permission, the company's representative in the Falkland Islands told Penguin News this week.
Richard Winkelman said it was too early to anticipate how many jobs the construction of the 400x100 feet dock with a floating causeway would create, however if the project received all approvals and a suitable local company was selected to carry out the work, Noble would encourage the use of local craftsmen.
"There appears to be some qualified folk here who have the construction capabilities," the oil man from Houston, Texas, said.
The plan would be to tow the barge complete with all the components for installing the port on board from New Orleans to the Falkland Islands, departing December 1 and arriving on February 1, 2014.
Construction is anticipated to take five months with a projected completion date of July 1.
Once in place Winkelman said, it would meet all their shipping demands for the next exploration phase. "That's the design. A simplistic, movable temporary dock" he said.
The dock has an estimated life-span of 10 years and he recognised the Falkland Islands Government's policy regarding the removal of any temporary dock.
"The agreement we are working on with FIG is for absolute use for three years from the date of first usage," he said.
If Noble FI were to progress to the extraction stage would the temporary dock meet the shipping needs of that phase?
Mr Winkelman said that as it was backed right now, he did not know if it was specifically ready for the heavier lifts of a development project.
It was too early to say whether investment in a permanent port at the end of the three year period would be an option for the company, said Mr Winkelman. "Our plan is to drill some exploration wells and hopefully we'll find some hydrocarbons".
Industry commentators have suggested that Noble who operate in several politically sensitive areas around the world, could land in hot water due to their exploration bravado. Did Mr Winkelman consider this a fair assessment of the company?
"We have a sustainable, industry leading exploration program to yield significant discovery resources – so we have a robust exploration program. I wouldn't use the word bravado, it's not in my dictionary," he replied.
Referring to the political issues surrounding exploration in Falklands waters, Mr Winkelman said, "We're here, we made an agreement with the FIG for exploring for oil and our remit is with FIG for off shore exploration. We're planning to drill ahead."
He explained that Noble Energy Incorporated had five core areas in the world; The DJ Basin in Colorado, the Marcellus Shale project in Pennsylvania, heavy involvement in the Gulf of Mexico, Eastern Mediterranean and West Africa.
"We also have international frontier ventures one of which is the Falkland Islands, Nicaragua, an emerging venture in Sierra Leone and a new venture in the US, in Nevada. We are busy at this time," said Mr Winkelman.
Noble has enjoyed a decade of growth and are poised for another decade of growth because of its diversified and focused asset portfolio which offers shareholders stability and superior returns, he said.
"We have a sustainable industry leading exploration programs which lends itself to finding new discoveries and resources, one of the things we believe is very important to our message and relevant to the Falkland Islands. We have a competitive advantage in delivering large scale major projects and we have a track record of outstanding execution of those major projects".
Winkelman concluded: "one of our key points is we have a fully integrated financial risk strategy that ensures our ability to support business value creation and finally we have a core divisional capacity to deliver results. That's Noble core and of course Noble Energy Falklands Ltd falls under that umbrella and we are going to exercise those same values here in the Falkland Islands."
Noble Energy Falkland Islands farmed in with Falkland Oil and Gas (FOGL) on their northern area licence for a 35% interest in August 2012, with the same deal taking place on the Southern licences in 2013. Operator-ship of the northern licence was transferred to Noble earlier this year. They will become the operator for the Southern licences early next year.

By Sharon Jaffray
Penguin News