Brazil raises basic interest rate to 9.5% and leaves door open for further increases
Thursday, October 10th 2013 - 05:11 UTC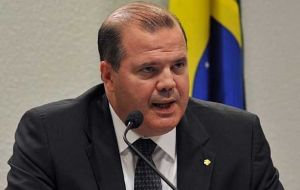 Brazil Central bank raised interest rates for the fifth straight time on Wednesday and gave no indication of backing off its battle with high inflation. The benchmark Selic interest rate now stands at 9.5%, up fifty basic points from 9%.

The central bank made no changes to the statement accompanying its decision, suggesting it could maintain the current pace of rate rises at its next meeting, in November.

Before the meeting, most economists believed the Selic would end the year at 9.75%, according to a weekly central bank poll released on Monday.

However, a growing number of economists have started to bet that interest rates could climb back into double digits next year to ensure inflation expectations for 2014 and 2015 fall towards 4.5 percent, the centre of the government's target.

The statement read: "Giving continuation to the adjustment of the benchmark interest rate, the Copom decided unanimously to raise the Selic rate to 9.50 percent a year, without bias.

The committee considers that this decision will contribute to put inflation on a decline and assure that this trend will persist next year.

The following board members voted for this decision: President Alexandre Antonio Tombini, Aldo Luiz Mendes, Altamir Lopes, Anthero de Moraes Meirelles, Carlos Hamilton Vasconcelos Araujo, Luiz Awazu Pereira da Silva, Luiz Edson Feltrim and Sidnei Correa Marques."

Despite ample stimuli measures Brazil's economy has been slow to react and has been stuck in a holding pattern of slow growth in the past three years. At the same time, inflation has remained stubbornly high, forcing the central bank to reverse course and start raising interest rates again.

Since April, the bank has raised the Selic by 225 basis points.

The repeat of the terse language used by the bank in its previous three decision statements may be taken by investors as a strong indication of another aggressive rate hike that could take the Selic to 10% on Nov. 27.

That scenario seemed more likely after central bank director Carlos Hamilton Araujo said last week that there was still "a lot of work to be done" to battle inflation.