Argentine economy 12 month expansion in August was 4%
Monday, October 21st 2013 - 06:16 UTC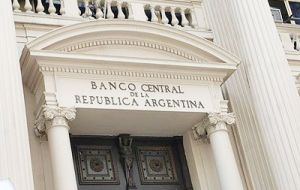 Argentine economic activity grew 4% in August from the same month last year, the government said on Friday, growth that far exceeded market expectations.
The percentage is based on the monthly EMAE economic activity index, a close proxy for gross domestic product. The government's INDEC statistic office also said in a statement that August economic activity rose 0.4% from July.
For full year 2013, the government of President Cristina Fernandez expects GDP to expand 5.1%, following GDP growth of 1.9% in 2012 and 8.9% in 2011, according to official figures.
Last year's expansion was restricted by weak global demand, a drought-hit grain harvest, high inflation and the negative impact of currency controls on investment in Latin America's No. 3 economy.
The region as a whole will likely struggle to lift economic growth next year after a disappointing 2013, raising the stakes for policymakers already grappling with prospects of higher market interest rates in the United States.