Lagarde praises Argentina's 'positive progress' in reforming economic data quality
Tuesday, November 12th 2013 - 08:10 UTC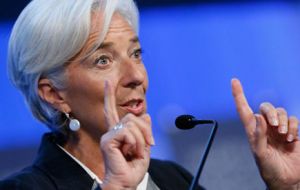 Argentina has made "positive progress" in reforming the quality of its economic data, the head of the International Monetary Fund said on Sunday, adding that the IMF's board is set to review the country's moves in a few days.

The IMF, which requires accurate statistics to analyze the world's economies, censured Argentina in February over failing to improve the accuracy of its inflation and gross domestic product growth data and gave the country until Sept. 29 to take action.

Analysts have accused Argentina's government of underreporting inflation since early 2007 for political gain and to reduce payments on its inflation-indexed debt. Inflation has been around 25% for several years, according to private estimates, one of the highest rates in the world. The government says inflation is less than half that.

"We are in a process with Argentina at the moment of clarifying the numbers, establishing those reliable and shared numbers with the membership," IMF Managing Director Christine Lagarde said in an interview with CNN.

"We are making positive progress but it's a matter that will be reviewed by the board in a few days' time and I would not want to prejudge what the outcome will be."

If Argentina fails to make progress, the IMF board could choose to impose sanctions, barring Latin America's third-largest economy from voting on IMF policies and accessing financing.

The only country the IMF has forced to leave its ranks was the former Czechoslovakia, an action that occurred in 1954. Countries like Somalia and Zimbabwe have been sanctioned by the IMF, but mainly because of a failure to repay the fund.

Argentina's populist government, and many ordinary citizens, blames IMF policies for precipitating the country's devastating 2001-02 economic crisis.

Argentina has refused to participate in the IMF's annual economic assessment for the past seven years - though it is not unique in South America. Ecuador has shunned the assessments for the past five years, and Venezuela has not participated since 2004.