Commemorative coin: "Tribute from the Argentine People to Pope Francis"
Wednesday, December 4th 2013 - 00:53 UTC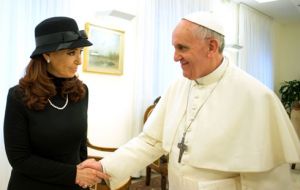 Argentine Lower House passed last week a bill creating a commemorative coin as a tribute to Latin America's first Pope. Lawmaker Oscar Cachi Martinez first proposed the measure in April, and it garnered approval from congressional committees during November. The next step is for the bill to the considered by the Senate.

The goal of the coins, according to the text of the proposed law, is "to commemorate an event of global dimensions, so our present and future generations remember this splendid act in the history of humanity, in which the principal actor is an Argentine."

Beneath the Pope's face, the coins would read, "Tribute from the Argentine People to Pope Francis."

Catholic faithful across Latin America cheered the election of Pope Francis earlier this year.

Even though about 480 million of the world's 1.2 billion Catholics live in the region, for centuries, the church's top job had gone to Europeans.

That changed with the announcement that then-Argentine Cardinal Jorge Mario Bergoglio, who served as archbishop of Buenos Aires, would become the new Pontiff.

The 77-year-old pontiff has sought to awaken a spirit of joy and compassion in the church, scolding Catholic "sourpusses" who hunt down rule-breakers and calling out a "tomb psychology" that "slowly transforms Christians into mummies in a museum".

"We believe that the way of being, the charisma and the humility of Pope Francis have managed to revive global sympathy for the Catholic Church" said Argentine lawmaker.