Wednesday,
March
12th
2014
- 07:55 UTC
Bachelet pledges to tackle 'inequality' and draft a new constitution
Socialist Michelle Bachelet promised to tackle inequality as she took the oath of office on Tuesday, returning to power after four years to lead Chile. Bachelet succeeds conservative Sebastian Piñera, who said he was leaving his successor "a better country than the one we had four years ago."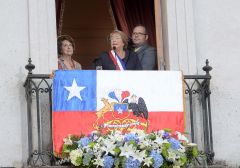 "Chile has but one great enemy, and its name is inequality. Only together can we take it on" the president said addressing a crowd gathered in the square next to government house or Casa de la Moneda. "Let's start now. The time is short," she stressed, pledging 50 initiatives in her first 100 days back in office.
Earlier the 62-year-old was sworn in at a solemn ceremony in Congress charged with symbolism.
"Yes, I promise," she said as she took the oath from the new Senate leader Isabel Allende.
Allende, the daughter of ousted president Salvador Allende who died in a 1973 coup, handed Bachelet the presidential sash and fervently embraced the returning president.
"The historic image of two women simultaneously occupying the two highest positions of state will go around the world," Allende said earlier.
Gathered for the transfer of power were presidents from around the region as well as US Vice President Joe Biden. Notably absent was Venezuela's President Nicolas Maduro, who cancelled at the last minute.
Bachelet was Chile's first female president the first time she held the office, from 2006 to 2010. In this second stint at the helm, she will have a chance to cement her legacy as a transformative leader who experienced firsthand the horrors of the 1973-1990 Augusto Pinochet military dictatorship.
During that dark period, Bachelet was tortured, expelled from the country, and then returned years later to work as a pediatrician, eventually entering politics. Her father an Air Force commander died during torture.
After her first term as president, Bachelet spent three years in New York, where she headed UN Women, and on her return as head of the opposition alliance defeated conservative Evelyn Matthei in December elections with 62% of the vote.
During the intense campaign, she promised to launch major reforms of Chile's education system, its taxes and write a new constitution that wipes away vestiges of the Pinochet dictatorship.
She promised free university-level education and to end state subsidies to private, for-profit colleges, which have put higher education out of reach of the poor.
Both reforms were at the center of mass student protests that swept Santiago starting in 2011. Student leaders have remained skeptical, however, and say the protests will continue.
To finance the educational system, Bachelet has called for an ambitious tax reform that would raise 8.2 billion dollars, or about 3% of GDP.
The new constitution Bachelet envisions would replace one imposed by the military in 1980, and revise the length and limits on presidential terms.
In Congress, she has the majority needed to approve the tax reform, but still must form alliances with the opposition and independents to pass the educational reform and to rewrite the constitution.
Analysts believe she can easily find the votes for education reform, but say overcoming hurdles to changing the constitution will be much tougher.
Internally, Bachelet also must deal with political differences that are already evident in the broad coalition of Christian Democrats, Socialists and Communists who support her.
The crisis in Venezuela has already confronted her with divisions between Christian Democrats, who want to censure the Maduro government, and the communists, who support him.
Bachelet inherits an economy that is losing steam after some five years at 5% growth rate. Forecast for next year is between 3.75% and 4.75%.