Prince Harry will be visiting Chile and Brazil next June
Saturday, April 5th 2014 - 00:52 UTC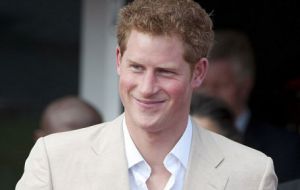 Prince Harry will undertake two official overseas visits in May and June this year. He will visit Estonia and Italy in May, followed by a visit to Brazil and Chile in June. Both visits are in support of the UK Government and are being organized by the Foreign and Commonwealth Office.

In Estonia, Prince Harry will thank the Estonian Defense Forces for their support of British troops in Afghanistan. Estonia has had a company of soldiers in Afghanistan since 2006, who have been directly under UK command and who have served without caveats during their deployment. During the visit, Prince Harry will meet some wounded Estonian soldiers, several of who were treated alongside UK soldiers at Headley Court in the UK.

In Italy, Prince Harry will attend World War II commemoration ceremonies focused on the Battle of Monte Cassino. The four battles for Monte Cassino in Italy took place between January and May 1944. They saw the Allied Forces involved in some of the most hostile fighting of the Second World War. The battles involved troops from America, UK, Canada, France, India, New Zealand and Poland.

Prince Harry's visit to Brazil and Chile in June is designed to enhance the partnership between the United Kingdom and Brazil and Chile, and build on the links Prince Harry forged during his official visit to Brazil in March 2012.

About the visit, Her Majesty's Ambassador to Chile, Mrs. Fiona Clouder, said: "We are delighted that Prince Harry will visit Chile in June. This is an opportunity both to celebrate the historic links between Chile and the UK, and to build links for future generations".