China has become Latam's banker loaning 102bn dollars from 2005 to 2013
Thursday, April 10th 2014 - 05:37 UTC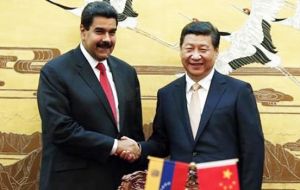 China loaned 102 billion dollars to Latin America between 2005 and 2013, mainly to Venezuela and Argentina, while Mexico seems to be going the same way, according to a release from the Global Economic Governance Initiative which depends from the University of Boston.

The financing was mainly through the leading Chinese banks such as China's Development Bank and the export-import Eximbank, according to the group's co-director, Kevin Gallagher who made a presentation in Washington admitting that it was a 'difficult task' to have access to data from Chinese and Latam institutions.

Last year Chinese loans to governments, state companies and private companies in Latam reached 20.1bn dollars. In 2012, it had dropped to 3.5bn dollars, the lowest since Chinese banks began operating in the region.

The report says "China continues to concentrate in financial high-risk countries" such as Venezuela and Argentina, the two that most benefitted last year, and others such as Ecuador and Jamaica.

Gallagher said that China looks to balance risk with higher than market interest rates with Ecuador or accepting oil in payment such is the case of Venezuela and even Ecuador.

The report points out to the fact that the world's second largest economy has rapidly become the region's top financier, even ahead of the Inter American Development Bank and the World Bank.