Cristina Fernandez praises the Kirchner years and rehearses her farewell speech
Tuesday, April 22nd 2014 - 06:22 UTC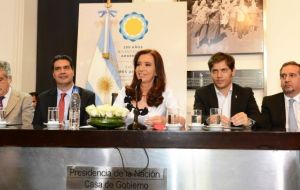 President Cristina Fernández praised on Monday the work carried out by herself and late husband Nestor Kirchner during over a decade of holding the Argentine presidency, stating that she had no doubt that her successor would inherit a healthier country than in 2003.

"What I want to leave the next president is a nation which is much better than that which we received; they will receive a totally different country, I have no doubt about that," CFK affirmed during an act held in Government House on her return from Easter holidays in Santa Cruz province.

Cristina pointed out during her address that there were "sectors who have benefited" from her administration, who nevertheless "whenever they have been able to throw a spanner into the works they have done so."

The Argentine president, who won two consecutive terms in 2007 and 2011, is prohibited by constitutional restrictions from seeking a third presidential period in the next elections, in 2015.

Cristina Fernandez claimed that some "want to lower spirits and make people forget all the achievements of these years", but "before letting yourselves be driven down by the silly black box (television) think what this was in 2003 and what you have now".

Let's hope the next government won't have to be exposed to the "inside and outside boycotts" and "let's hope the next government can do many more things, but better because they will find things as we left them".

And "I would have liked to say that all collaborated, that everybody cooperated but to the honest from many sectors whenever possible they've tried to make things difficult".

Finally she mentioned how successful the Holy Week holidays had been for the domestic tourism industry, over 2.5 million went on holidays, "but also overseas: my daughter Florence was in New York and told me the city was full of Argentines shopping".