Colombia: Zuluaga and Santos, plus allies, will decide on the peace dialogue on 15 June
Monday, May 26th 2014 - 07:50 UTC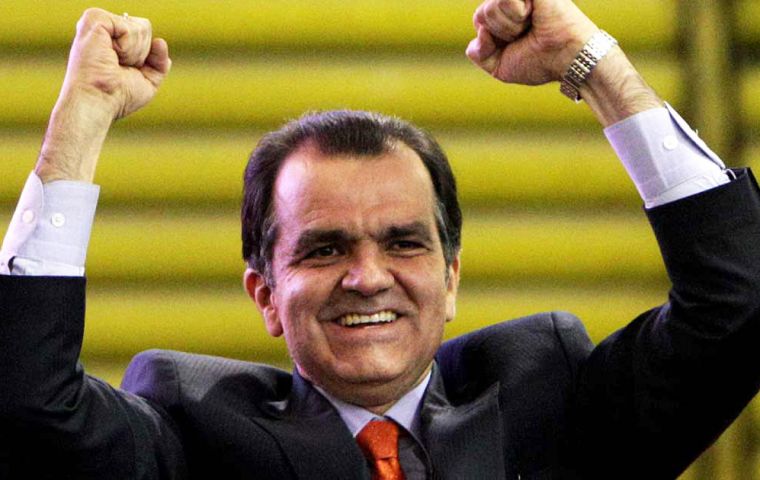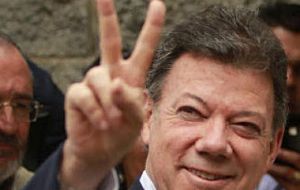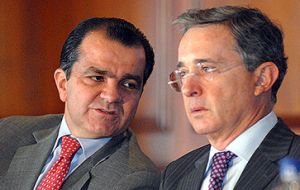 Right-wing opposition candidate Oscar Ivan Zuluaga won most votes in Colombia's presidential election on Sunday but fell short of a first-round victory and will face President Juan Manuel Santos in a close runoff on 15 June.

Zuluaga, who has fiercely opposed Santos' peace talks with Marxist guerrilla leaders, took first place with 29.3% of the vote on Sunday, while Santos trailed with 25.7%. And as neither man won the 50% needed for first-round victory, they now go to a runoff.

The election was seen as a plebiscite on Santos' strategy of negotiating with rebel leaders to end a 50-year-old war that has killed some 200,000 people and displaced six million mostly peasants. Despite the significance of the vote it is estimated that abstention was a record 60%.

Zuluaga, a former finance minister, accuses Santos of pandering to terrorists and has suggested he would scrap the talks in favor of military campaigns similar to those led by his mentor, former President Alvaro Uribe.

"We will decide on June 15 if we want more of the same or change for a better Colombia, if we want a country that gets more dangerous every day or if we want to build a safe country like the one we had between 2002 and 2010," Zuluaga told supporters, referring to Uribe's eight years in power.

Zuluaga has vowed to give the Revolutionary Armed Forces of Colombia (FARC) eight days to lay down their weapons and halt the peace talks if they refuse. That appeals to some Colombians outraged that rebel leaders could eventually hold seats in Congress and potentially avoid prison sentences for their crimes.

Critics say Zuluaga is Uribe's puppet and that the former president would rule from behind the scenes if his candidate wins the runoff.

Santos, 62, appealed to voters who hope the guerrillas will negotiate peace after seeing top leaders killed and their numbers halved to about 8,000 fighters over the last 12 years.

"In three weeks, Colombians will choose between two options: those of us who want the end of the war and those who want a war without end," Santos told cheering supporters. He congratulated Zuluaga for his strong showing.

Santos was defense minister under Uribe and had his backing when he was elected in 2010. The two fell out when Santos opted to negotiate with the FARC instead of sticking to Uribe's strategy of forcing the rebels' surrender on the battlefield.

The peace talks in Cuba have yielded agreements on three items of a five-point agenda, including one deal in which the FARC agreed to step away from the drug trade and another which would allow the FARC to take part in politics.

Although the first-round results were a blow to Santos, he could receive the backing of two other candidates, Enrique Peñalosa and Clara Lopez, who both support negotiations with the FARC and together garnered close to 24% of the vote.

The fifth candidate, Martha Lucia Ramirez, is skeptical of the talks and her supporters may swing behind Zuluaga. She had 15.5% supports.